ScaleUP Ventures - History and Overview
Nadir Mohamed's vision for a VC firm tying corporate Canada in more effective ways to the tech ecosystem
Background
Since stepping down from the top job at Rogers Communications in 2013, after a 25-year career at the company, Nadir Mohamed partnered with former Ryerson president Sheldon Levy in 2015 to launch ScaleUp Ventures, aiming to tackle one of the tech set's most persistent obstacles: that large Canadian firms too often turn up their noses at domestic start-ups, opting to buy from established international firms.
To quote Nadir: "While I was at Rogers, I was very involved in trying to understand what was happening with digital technology. This included getting involved in a New York initiative that Mayor Bloomberg had started, putting established companies in the media and telecom sectors together with start-ups and developers, and really making the case for why New York City could be the growth engine for high tech. Could we do something similar in Toronto? That's when I thought that as a catalyst, we should create a fund that targets these sectors [media, banking, telecom and manufacturing], and brings universities, entrepreneurs, the corporate sector and government together."
Nadir started looking around for a lead GP (general partner) for the fund and recruited Kent Thexton in the summer of 2016. Kent was the former chairman of my last company, Mobidia, who had sat on the board of Sierra Wireless with Nadir for several years (Kent had also worked at Rogers early in his career). Kent asked me to act as a reference for him as Nadir had arranged for an independent due diligence/recruiting process so I took the calls and did my best to be objective about Kent, and ultimately he was offered the job. Kent had spent a few years as a partner in Canada's largest VC firm, OMERS Ventures, and while there he had worked with Kevin Kimsa, another partner in the fund, who he recruited to become the 2nd GP in ScaleUP Ventures, starting in the fall of 2016.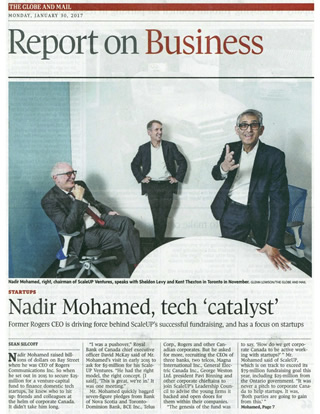 I was running out the clock on my App Annie 2 year non-compete/engagement, post Mobidia sale to them, and Kent asked if I would provide some technical/business due diligence on a few of the first potential ScaleUP investments he was thinking of making over the summer and early fall of 2016 and I agreed to do that for him. I had worked over my career with 4 VC firms, and still sit on the board of the BC Discovery Fund, plus I was very interested in the potential opportunity to bring the ScaleUP Ventures value-add to the BC tech community, so I also engaged in a fruitful discussion with Kent about how this might proceed out west.
The BC Government had committed $100 million to help stimulate BC VC tech investments and they were looking for VC firms with a minimum of $50 million sized funds to co-invest and also fund-of-fund invest so Kent asked me to approach them (Gerri Sinclair was head of the BC Tech Fund and we had a historical tech community relationship dating back to the 1990s) so I helped arrange meetings with both the BC Tech Fund managers as well as connect with other players surrounding the fund such as other fund-of-fund investees and government ministry staffers. By the end of 2016 the table had been set and so we went into 2017 with the full intention of pushing ScaleUP Ventures to the west coast with myself leading the effort.
I joined ScaleUP's management team in early 2017, acting as its west coast partner, participating in fund management meetings, developing an investee opportunity funnel out west, attending various tech industry events on behalf of ScaleUP, and started working to raise funds from west coast LPs as part of a potential summer 2017 fund 1 close at or above $100 million. Kent joined me for a number of the pitches when his business travel coincided with my marketing schedule. By July we had exceeded our goals, ultimately closing fund 1 at $106 million, with approx $10 million of new LP commitments from our efforts from the first half of the year marketing the fund in BC. I was proud to be associated with Nadir and the ScaleUP story as it truly became a Canada-wide venture firm with the backing of Canada's top business leaders and their firms.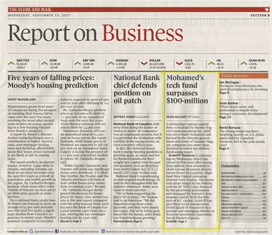 The Operation of the Fund Post Closing
The fund was structured with 2 GPs, Kent & Kevin, and 2 additional partners, myself and Matt Roberts with Kent, Kevin & I being the formal members of the investment committee, but in practice, working to involve all 4 partners in investment decisions. By the fall of 2018 more than 26 investments had been made, totaling almost $40 million, when Kent Thexton decided to leave the fund and accept the position of CEO of Sierra Wireless on a permanent basis (click here for a Betakit article on Kent's departure). He had previously been its Chairman, and had acted in an interim capacity as their CEO over the summer months while a permanent CEO was being recruited - in the end he felt the opportunity was too good to pass up after being offered the position by their board. Kent's departure set in motion various operational changes and ultimately the decision was made to re-focus the team around the Toronto HQ and have support for the west coast approached in a different manner so I left the fund as a full time partner and now support ScaleUP's west coast acivities inidrectly.
Click here for ScaleUP Venture's Web Site