Fitness & Health - Mountain & Road Biking
After I tore my medial meniscus (left knee) I received 'strong' advice from my surgeon (Dr. Brian Day) not to continue running long distances post-surgery, and take up biking or swimming instead. So I asked for and received a very trick Rocky Mountain ETSX-70 cross-mountain race bike for my birthday from my family in 2004. It was just the ticket to get my knee back into walking shape and also burn off some calories in the UBC Pacific Spirit Park next to my home in Vancouver. With endless trails stretching from the Fraser River to Spanish Banks, with lots of varying terrain, it is an ideal play ground for my biking endevours. Whistler also beckons with its huge variety of trails and down-mountain bike park.
Biking is my primary cardio outlet these days and in many ways I have stopped missing my old running days.
My awesome cross-mountain (26 lbs) Rocky ETSX-70 full-suspension bike: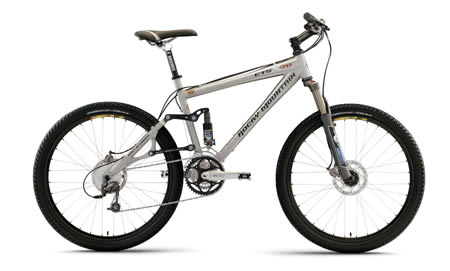 I got into road biking in 2008 and steadily improved my fitness over the first 2 years to the point where I managed a 4:38 ride time on the Vancouver-Whistler Granfondo on September 11, 2010 (122kms, 6700' of vertical). My average speed was 26 km/h and I burned 2708kJ with an average power output of 170W. Now that I have recovered fully from my March 23, 2012 spinal fusion surgery I am starting to train hard again for a strong 2013 road biking year.
My tricked out (14 lbs) 2008 Trek Madone 5 Series road bike has 2010 Zipp 303 Firecrest tubular carbon wheelswith Vittoria Corsa Evo SX tires, Spin Stix titanium skewers, 2010 Speedplay Zero titanium peddles, 2011 Campy Chorus 11 Groupset (not shown), 2011 Zipp Contour SL Handlebars & Stem, (not shown), 2011 Bontrager Team Issue Carbon Saddle and a CycleOps PowerTap Pro+/Joule 2.0 power meter: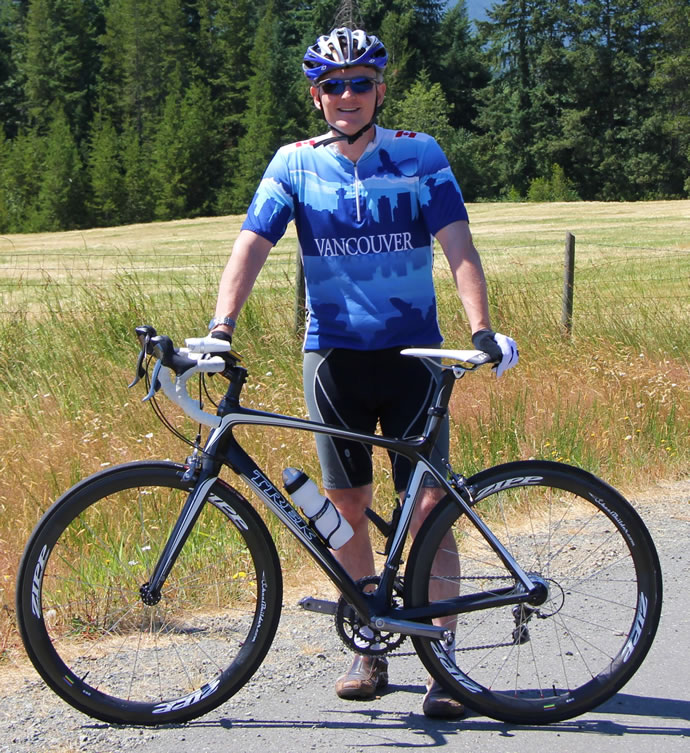 [Click on the image for a high res view]
I use TrainingPeaks WKO+ software to analyze my rides: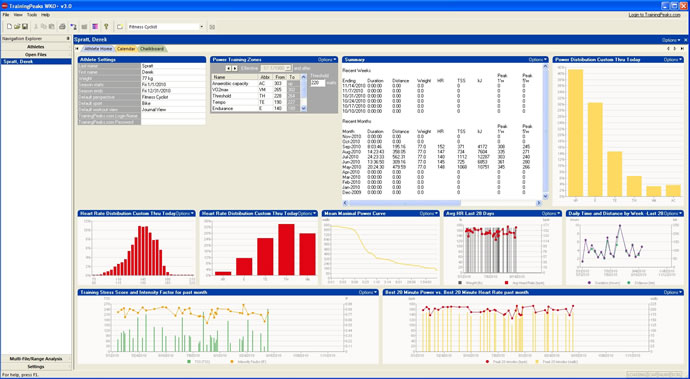 [Click on the image for a high res view]
Slick-rock biking in Moab, Utah with my YPO forum group (2006):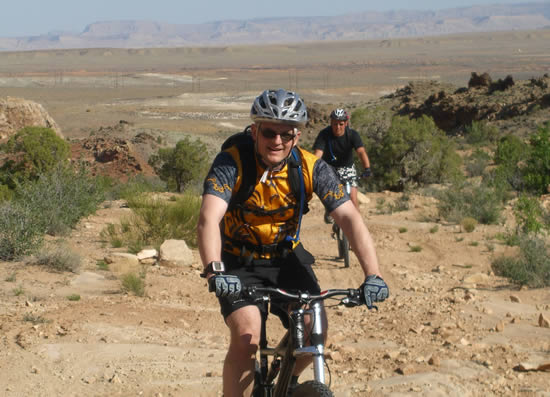 Coming back from a nice ride in the local woods with my sons Colin and Perry (2007):