2001 Chevy S-10 Dragster (owned 2000-2001)
Building and racing a Pro Stock pickup truck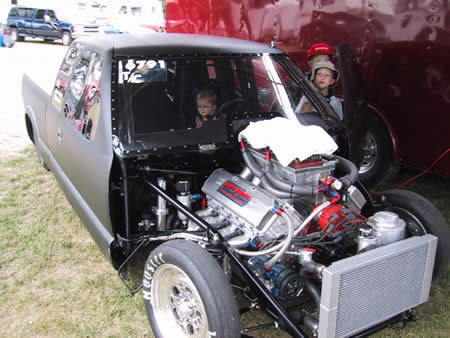 While this was the fastest and most expensive vehicle I have built/owned (using all pro/trick racing parts - see below), I really don't know why I allowed myself to get into this project - which was a somewhat excessive foray into high-end Pro Stock (and Top Comp) drag racing. My vendor/partner in the fabrication and racing of the Chevelle, Danny Beaudry/Pro Gas Engineering, really wanted to do this project together with me, and looking back on it, while it made some sense to leverage the trailer, motor home and tools that we had assembled as part of the Chevelle effort, there was no historical connection between myself and this S-10 dragster and no street-use angle to it either. Going really fast is a neat idea, but it is a lot of work and trouble too - net net, unless you are living the sport of drag racing, and have sponsors to share the financial cost, it isn't worth it at this pro/semi-pro level.
We ordered all of the trickest, costliest, and fastest pro stock parts: a $50,000 Steve Schmidt 580cid 1340hp Pro Stock engine (the engine was detuned to 1260hp by assembling it with 1.7:1 ratio roller rockers and 15:1 cr pistons rather than 1.85:1 rockers and 17:1 pistons for improved reliability and economy - we could use lower cost and more readily available C25 racing gas, rather than hard to find C44 Prostock blend) and $10,000 Proline 6000 transmission included, and got to work building the dragster over the period of 2000-2001.
It was a ton of work and money to put together a car that was to run potentially 6.9s @ 200mph in the 1/4 mile (when operated with a 5 speed manual transmission - for ease of maintenance we started out with a powerglide trans). In the mild state of tune that we initially had our S-10 setup for, it ran 7.50s @ 185+mph. Trouble was, it wasn't much fun for me (I wasn't licensed to run dragsters faster than 7.50s) and it was way outside of my comfort zone anyway - this thing was scary fast. After a few months of racing, we folded up the racing program and sold off everything, including the Chevelle. Bummer.
Specifications
S-10 Rolling Chassis:
25.1 approved chassis, all components SFI certified to run faster than 7.500s ET
Weight with test engine and transmission: 2180lbs
125" wheelbase
Weld SFI 15-1 approved wheels
17x33 tires
Chromolly tubing
All 4 link bars are heavy-duty units with Chromolly rod-ends
Wishbone track locator
Aircraft spec suspension hardware
4.57:1 Mark Williams Aluminum 'Pro' 3rd Member
Strange 35 spline axles
Mark Williams Carbon-fiber driveshaft
Strange front / Wilwood rear disk brakes
Strange double-adjustable shocks
Strange struts
Body prep & primer paint by Corvette Specialties
Halon Fire Suppression System
Edelbrock QuckData acquisition system
Autometer Pro Comp Gauges
Strange SFI Hub quick release steering wheel
Weldon 1500hp Pro Stock Fuel Pump and Bypass
Jazz SFI approved fuel cell
B&M Pro-stick shifter with Dedenbear Electric solenoid shifter
Dedenbear Multi-delay box/Throttle-stop timer
Ron Davis Radiator
Steve Schmidt Engine:
9.25" short deck DRCE II block with 4.900 bore spacing, 4.675 bore
All machining on block and heads to ProStock Specs
Callies 4.200 stroke ultra lite crank, modified by Schmidt
BME pistons and rods
Special LSM camshaft with 4.900 spacing on lobs
Custom ProStock oil pan
Weaver Brothers multi-stage dry sump system
Jesel Lifter Bushings, inboard head bolt lugs
Jesel rockers arms, special Schmidt design
Jesel Titanium keyed lifters
Manton tapered pushrods
Alan Johnson DRCE 10 degree symmetrical port heads, 2.475/1.880 Titanium valves
2x4 Schmidt/HRE sheet metal intake
Gary Williams Carbs
Jesel belt drive
2-3/8 to 2-1/2 step ProStock headers into 4-1/2 collectors
Front-mount MSD distributor
Holley ProStrip Annihilator digital programmable ignition system
MSD crank trigger

Transmission:
Transmission Specialties Pro-Line 6000 lock-up powerglide transmission
Transmission Specialties 8" 7600rpm lock-up converter
Digital timer for lockup control
CO2 activated lockup system included
2000hp potential, the standard in NMCA racing
Additional items:
30' Motorhome
26' Enclosed trailer with workshop, stereo/TV system, and awning
Hydraulic E-Z Jack Lift system
Racepak data-logger
Trick racing tools
Many spare parts
Engine dyno sheet: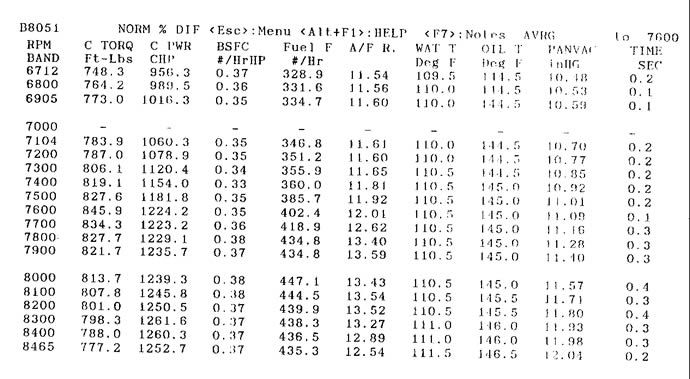 2001 Racing Videos
Chevy S-10 Pro Stock Dragster Initial Testing - 2001:
This was the initial footage of the track testing and tuning our new S-10 at the track, as well as Don Murray's mean green '56 Vet.
Equipped with a 1340hp 580cid Steve Schmidt pro stock engine, this was a serious vehicle. We ran it with a 2 speed powerglide transmission for ease of maintenance, but if we had matched this 9800rpm engine with a 5 speed manual transmission (which is what these engines were designed for), it would have potentially have been a 6s @ 200mph dragster.
Chevy S-10 Pro Stock Dragster, Horsepower Heaven Footage - 2001:
Competing in the NHRA Top Comp class at Mission Raceway
This is professional video footage that Larry Pfister of Horsepower Heaven took of our S-10 at the track
Photos
Our Steve Schmidt 580cid Pro Stock Engine: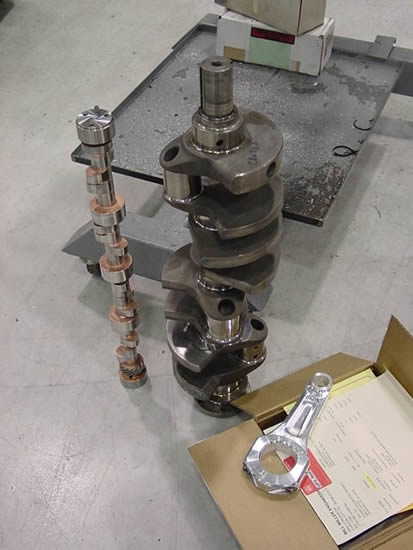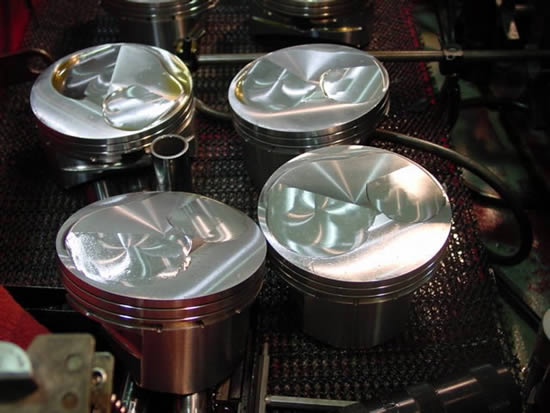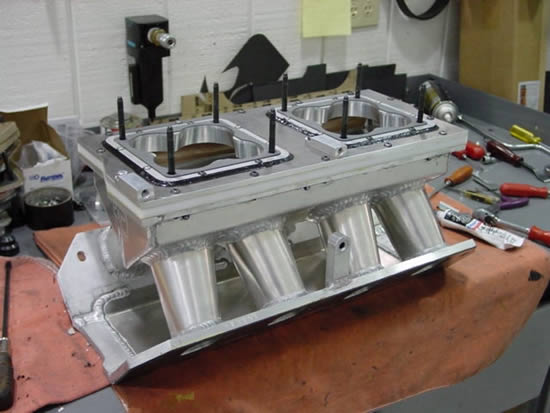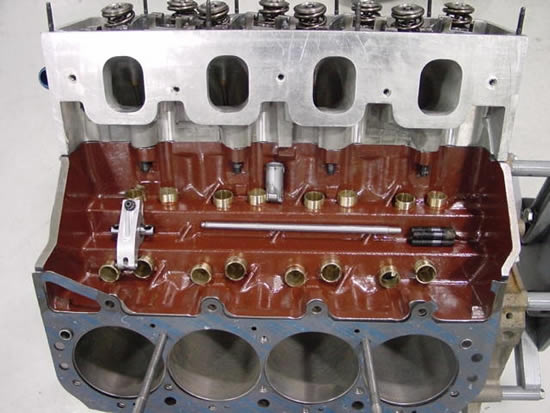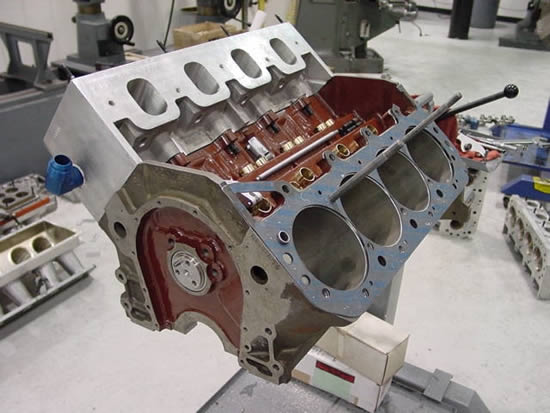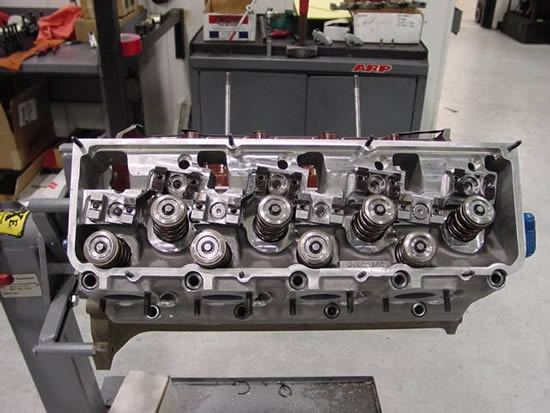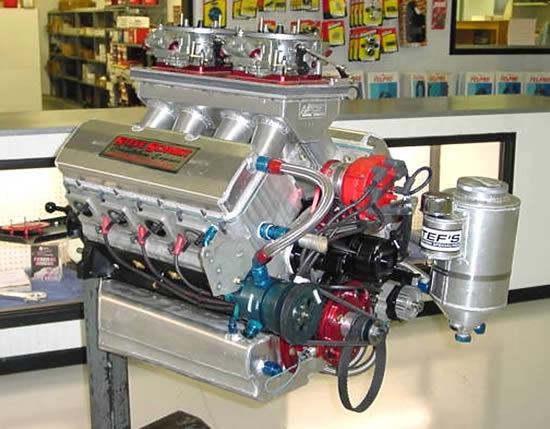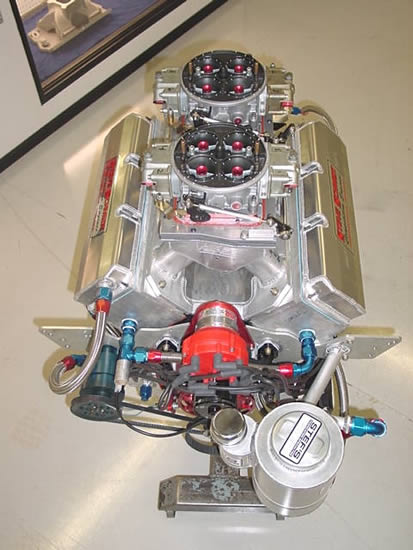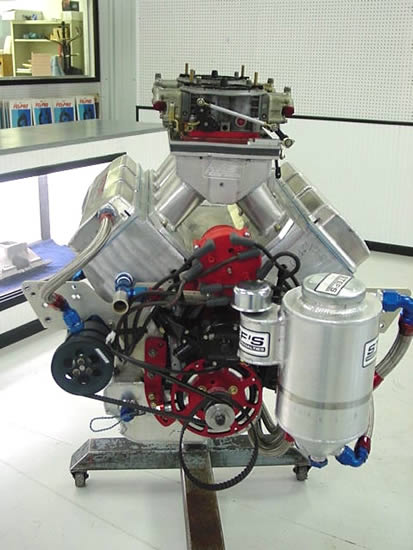 The Transmission Specialties Proline 6000 Transmission (with lockup converter):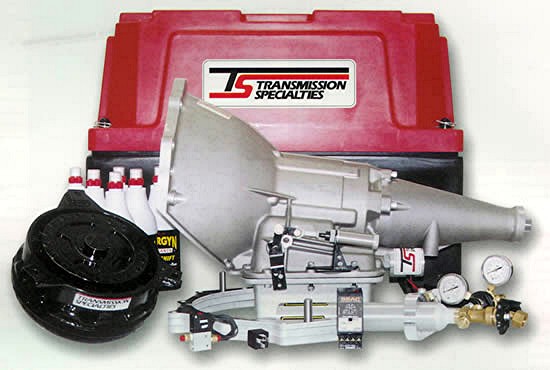 Click here for the TS Proline 6000 brochure
Fabricating & Assembling the S-10: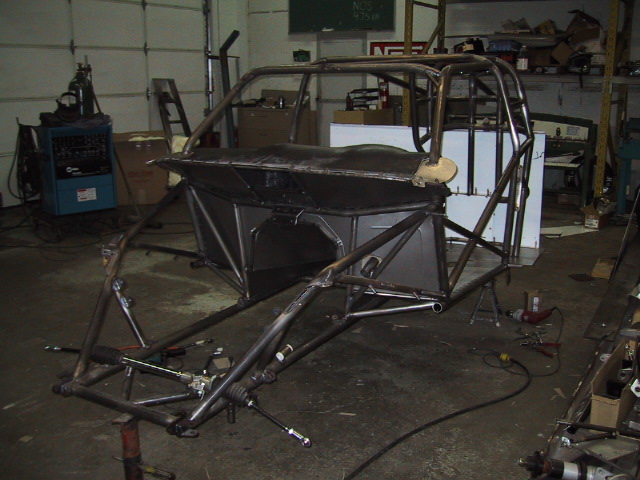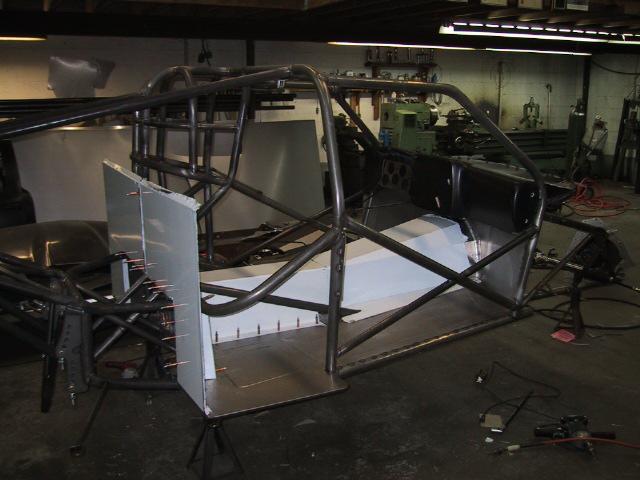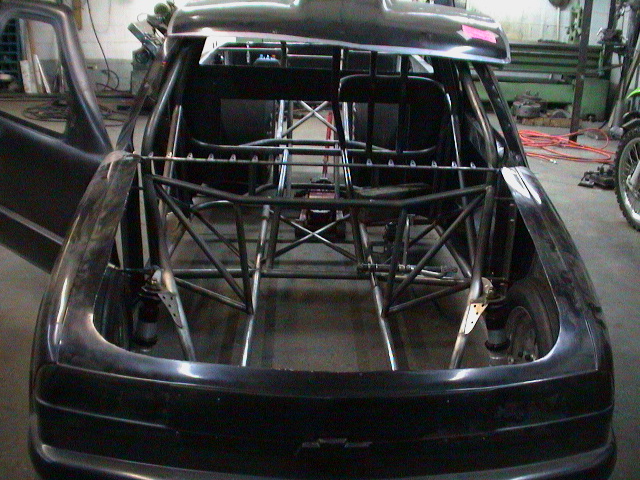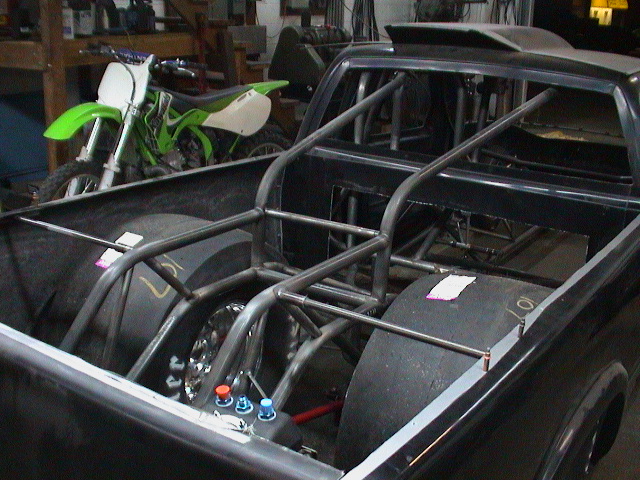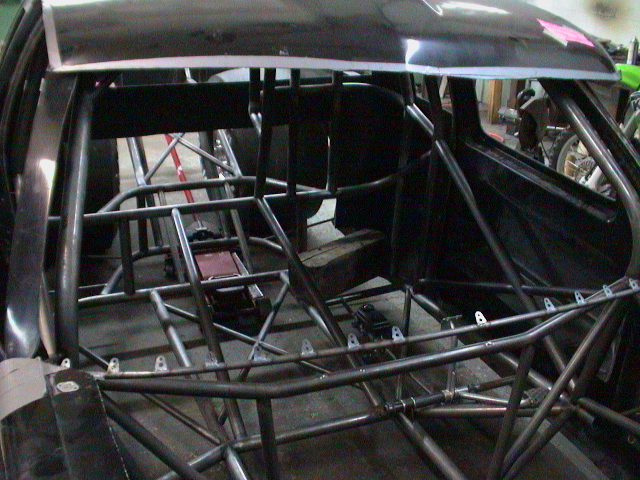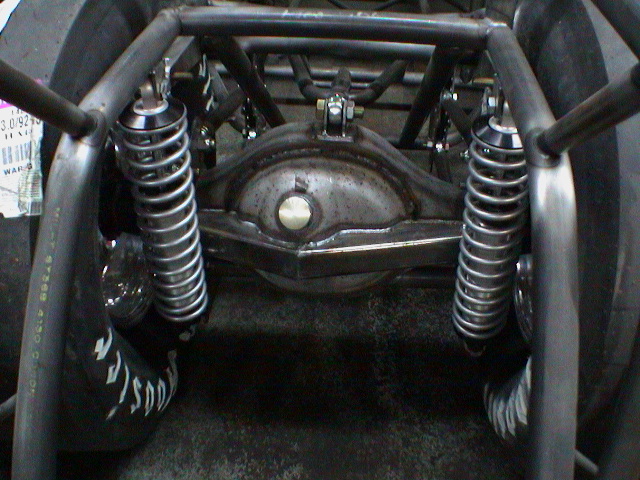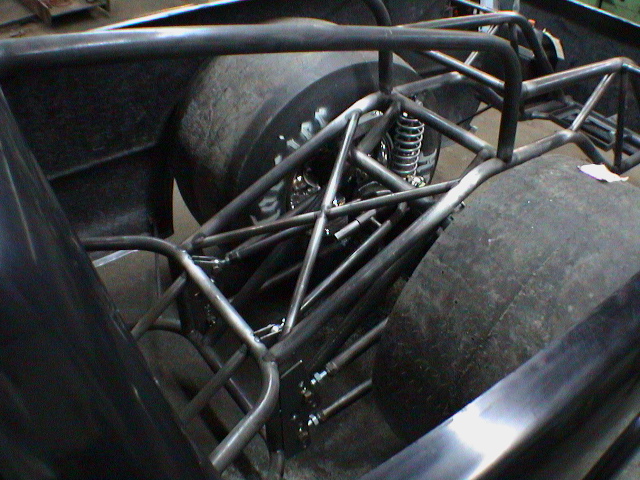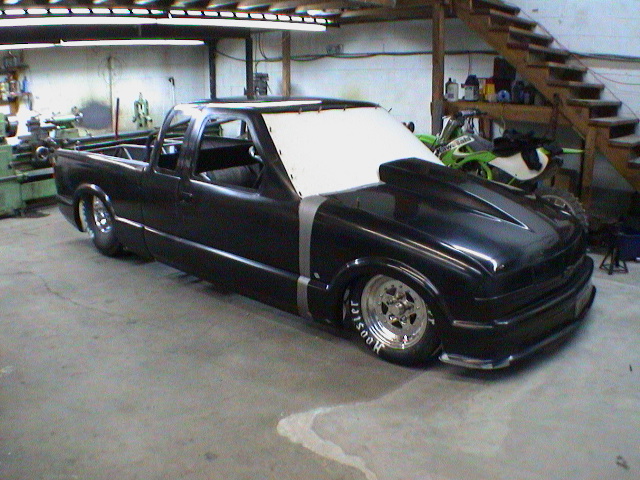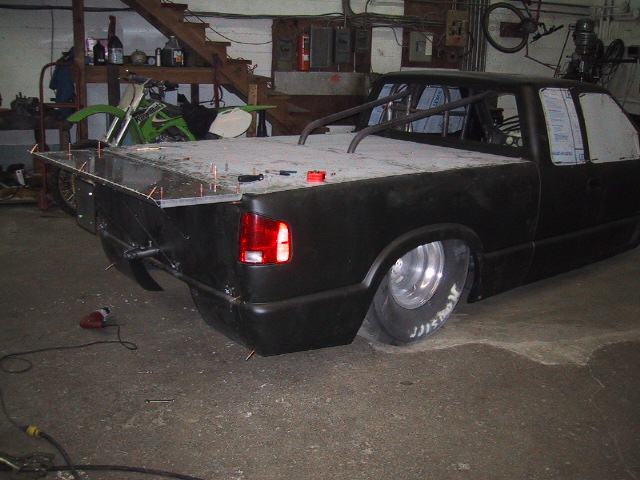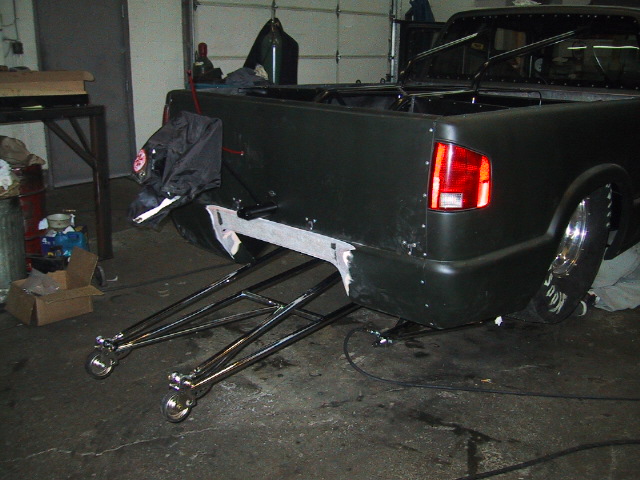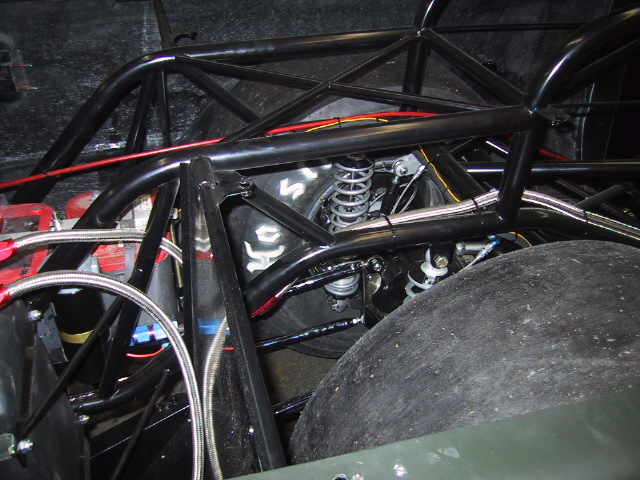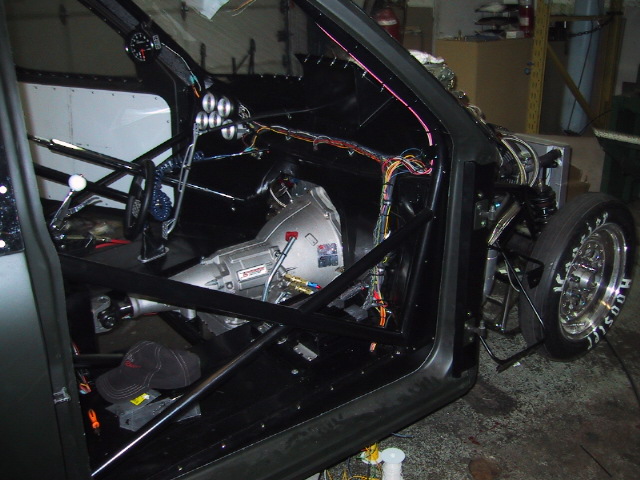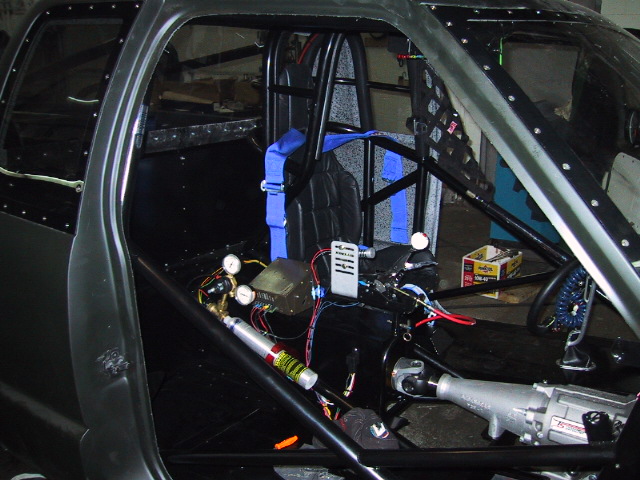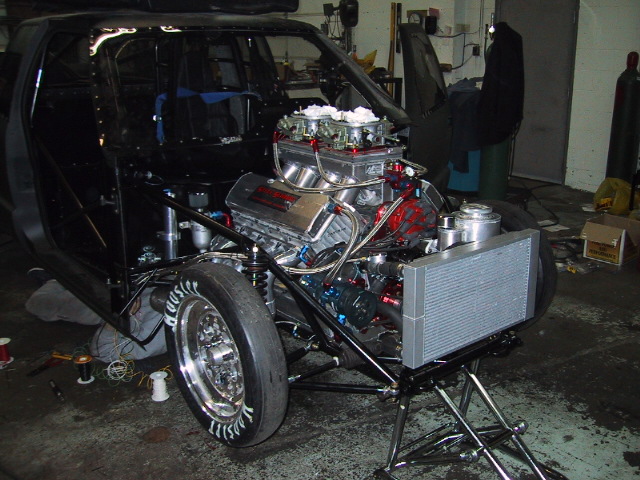 At the track: