Tom Urban - Gone to Burlington CD (1988/2006)
Vermont Mountain High . . .
Tom Urban is a member of my YPO forum and hails from Des Moines, Iowa and spent time in Montpelier, Vermont (near Burlington) where he recorded this album in 1988. I remastered it and transferred it to CD for him in 2006.
The CD Liner: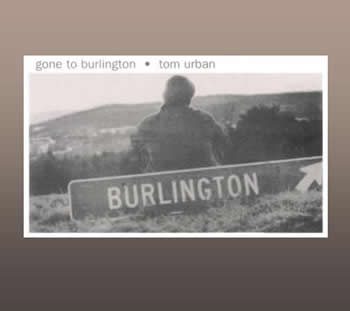 Audio Tracks:
Note: All audio is provided as Apple QuickTime files*
Track 1 - Love Affair With Music (2.6MB)

Track 2 - John's Song (2.7MB)

Track 3 - Mountain Song (3.1MB)

Track 4 - Where Do You Belong (2.1MB)

Track 5 - Byos and Prayers (3.1MB)

Track 6 - Carmen (3MB)

Track 7 - Gone to Burlington (2MB)

Track 8 - Middlebury Blues (2MB)

Track 9 - Dad (3MB)

Track 10 - Senior Panic-Junior Year (2.4MB)

Track 11 - Evergreen (1.4MB)

Track 12 - Ben and Jerry (1.5MB)

Track 13 - Empty Walls (2MB)

Track 14 - Twelve Yong Men (2.6MB)

Bulk ZIP File for download:

Right-click on the link below and select 'save link as' or 'save target as' (browser dependent) to download a ZIP file containing all 14 tracks listed above, as part of a single file that can be uncompressed back into a list of individual tracks that can then be imported into the iTunes media player application on your computer, and burned to CDs, etc. as required (once you unzip the files into a temporary directory, just drag that directory into your iTunes library and they will automatically be imported):

Tom Urban - Gone to Burlington (1988/2006) - Apple iTunes AAC files (ZIP file containing all 14 tracks, 33MB)
* Audio files are encoded in Apple iTunes/QuickTime AAC format (128kbits/s). If you do not have Apple QuickTime installed, you can download it from: www.apple.com/quicktime/download
If you are using a Windows PC running Internet Explorer, and you are having trouble playing web videos that don't conform to Microsoft's Windows Media Player file formats, then try a better browser that is free, standard's based, and very powerful - and one that works well with Apple QuickTime videos: Firefox. Download it here: www.mozilla.com/en-US/firefox/