1987 Ford Mustang 5.0 LX (owned 1987-1993)
The late model Blue Oval
re-enactment of the 55 Chevy
Track days at Westwood's 'Mountain High Racing' Course (1988):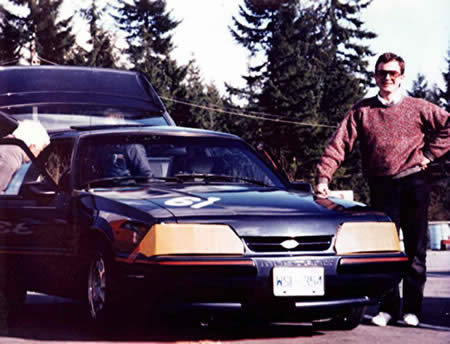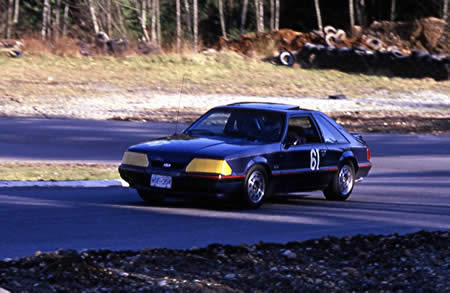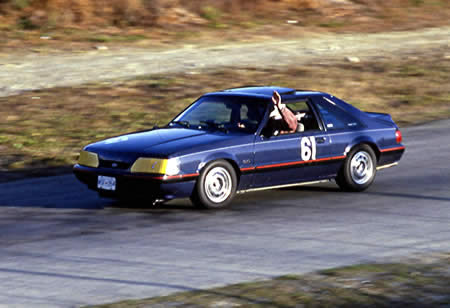 Video of my 87 Ford Mustang 5.0 LX, Club Racing at Westwood - 1988
In-vehicle footage of the final 'race' at the end of a weekend of driver training:
Click here to read the BC Sports Car Club Westwood Race Driver Training Manual
Click here to see a G-Analyst data recording of a full lap of the Westwood track in my car
Drag Racing up at Ashcroft (before Mission Raceway re-opened, 1988):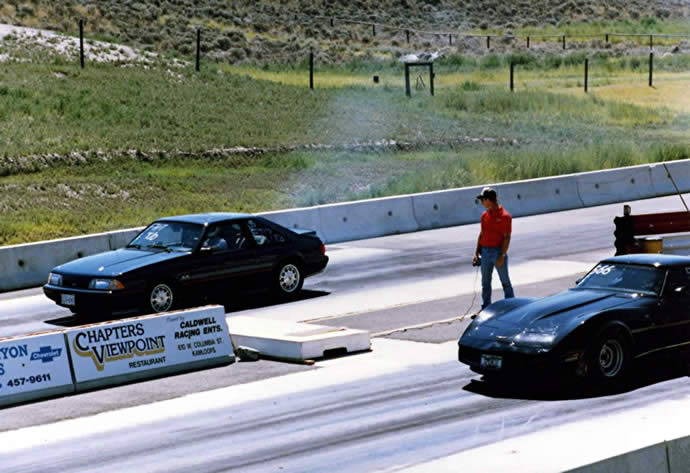 My days of auto slalom racing and street driving in a front wheel drive and relatively under-powered '83 VW GTI brought me to a point of desiring a higher powered, rear engine street/track car - something that I could practice tail-out trailing throttle oversteer in 7 days a week.
I purchased a 1987 Ford Mustang 5.0 LX in the late spring of 1987 and managed to take it to driver training up at the SFU parking lots within 48 hours of taking possession - and spent many long laps smoking the rear tires around the corners (not going very fast but looking good and feeling great). The sloppy suspension and resulting body roll cost me a set of tires right out of the gate. Next stop was a lowered and stiffened suspension, along with another set of rubber.
This car was a low quality piece, as the first thing I noticed when I picked it up from the dealer was a horrible shaking of the driver's seat every time I drove over a bump - it turned out that the seat was mounted to a thin sheet of steel that flexed (something I fixed later when building a roll cage for the car). And there was a nasty engine exhaust sound coming from under the dash - which I quickly traced to a gaping hole in the firewall where a lazy factory worker had neglected to attach the steering column gasket. And the wobbly left front fender was missing a major chassis bolt as well. At Ford, quality was certainly not job 1 - in 1987 at least.
Never the less, this particular Ford Mustang was destined to become a heavily modified auto slalom, road and drag racer, complete with a full-on racing suspension and a custom built engine and drive train. I started out by purchasing a set of Koni sport shocks and the Ford Motorsport 'C' race springs, which were cut down to lower the car about 3". It was way too stiff and I quickly replaced the 'C' springs with softer 'B' springs, and ultimately setup the ride height at 2" lower than stock, with 1.5 degrees of negative camber.
After a few weekends of auto slalom racing where I continued to have difficulty controlling and 'placing' the car on the track (what a change from the GTI which was light, very precise, and agile), I traced the problem to an excessively soft chassis - the body was literally twisting like a pretzel. I placed displacement transducers at key points on the chassis and measured more than 1" of flex between the shock towers which was terrible. I then took the car to Davenport Automotive to have custom frame connectors installed and suspension point braces welded in (including a shock tower brace). I also installed a roll bar - together these changes to the chassis made a world of difference as the car stopped feeling so nervous and imprecise.
This was in the days when no-one dared to attempt to modify a 'computer controlled' car - but I was an Electrical Engineer and wasn't afraid of electronic fuel injection systems - in fact, I was in the process of designing an after-market EFI computer kit for these cars (see my Performance Solutions history web page for information on these projects as well as editorial articles I wrote in Motorsports West Magazine on the subject of using computers in racing applications and modifying EFI based street/track cars).
I took the engine apart myself in the basement of my apartment and ported and polished the cylinder heads, installed over-sized 1.94/1.60" Chevy valves, springs, retainers and roller rockers, and tried out a number of different high-lift custom ground hydraulic roller cam shafts, port matched the intake and exhaust system, changed the mufflers, fabricated a spacer/insulator to create a 'cool' intake system, ported and polished the throttle body, swapped in a serpentine belt under-drive pulley, installed an adjustable fuel pressure regulator, polished the aluminum valve covers, upgraded the brakes, installed a 3.55:1 limited slip diff, and also re-did the audio system inside.
Performance Analysis
I purchased a Valentine Research G-Analyst to record the performance envelop of this car every step of the journey, ultimately taking the stock 225hp car, which could manage a 14.5s @ 96mph 1/4 time slip to a 338hp car, running 13.5s @ 105mph in the 1/4 mile - on street tires (as well as improving corning and braking from about 0.8g to well over 1.0g). With slicks this car would most certainly have run a 12 second pass.
The G-Analyst System - capable of recording Gs in 3 axis with a resolution of 0.001g: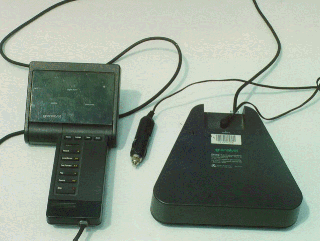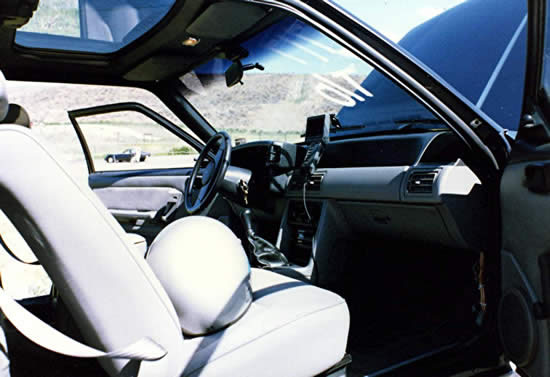 The G-Analyst could record acceleration readings in 0.1s intervals in all 3 axis and then this data could be transferred to a PC for analysis. I would carefully record acceleration runs in second gear, ensuring that the engine was at the same operating temperature for each test, and then feed the recorded data into a software program that I had written that would create simulated 1/4 mile performance analysis data. For example, it allowed me to play with different gear ratios in software before I decided to change the rear-end gears from 3.08 to 3.55.
Click here for my complete Mustang performance measurement and analysis document - pre/post-modifications
Engine Rebuild Photos
Here are lots of photos of many of these modifications . . .
The 302W short block with the new roller timing chain, balanced and blue-printed: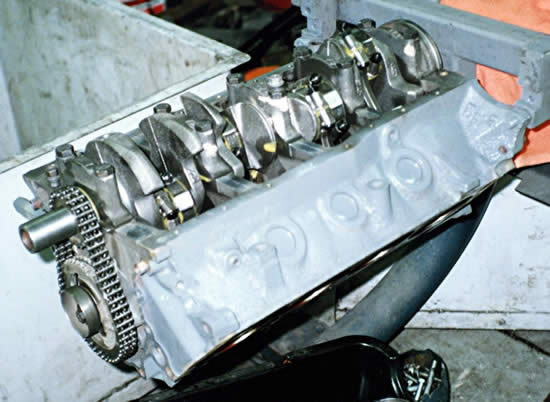 The pistons, fly cut for the larger valves and high lift roller cam: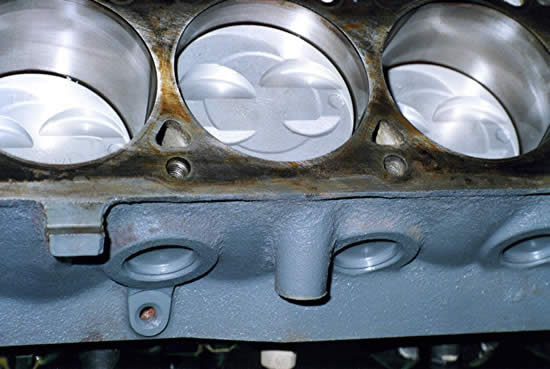 The 224-110-0.560/0.560" roller cam itself (and timing card):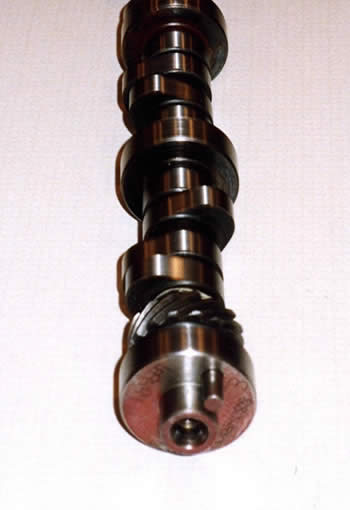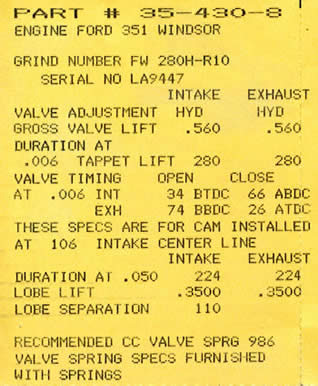 Back cut valves: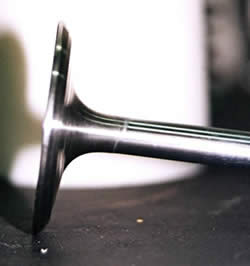 A close up of the beautiful porting work: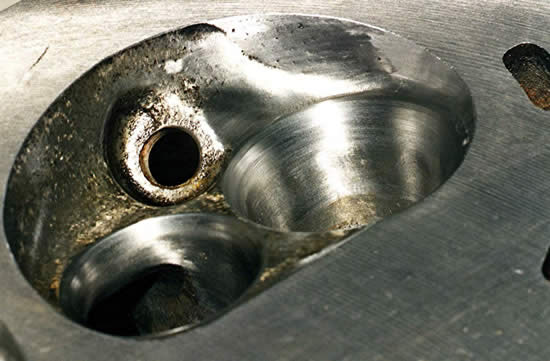 The ported/polished/milled heads, complete with larger 1.94/1.60" valves, performance springs, lifters, retainers and keepers: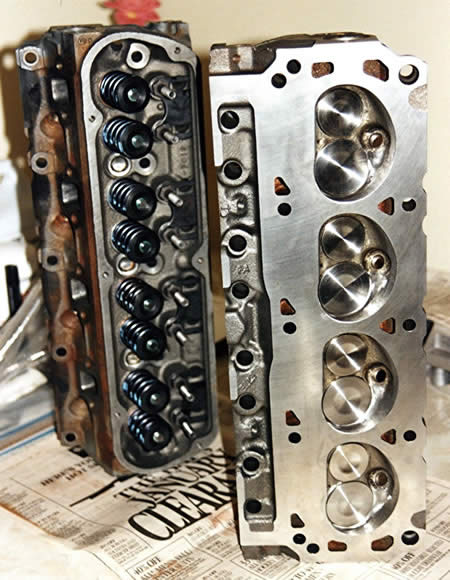 The ported lower intake: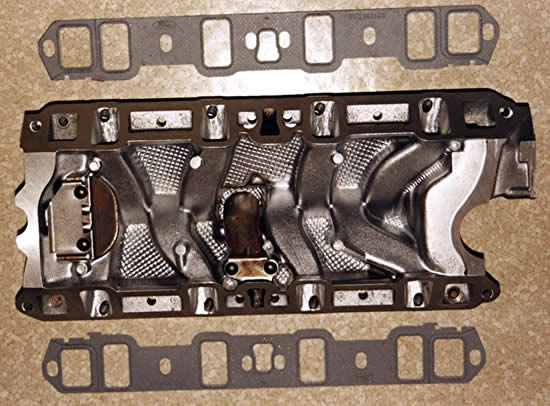 The re-welded, ported and cadmium plated short tube headers: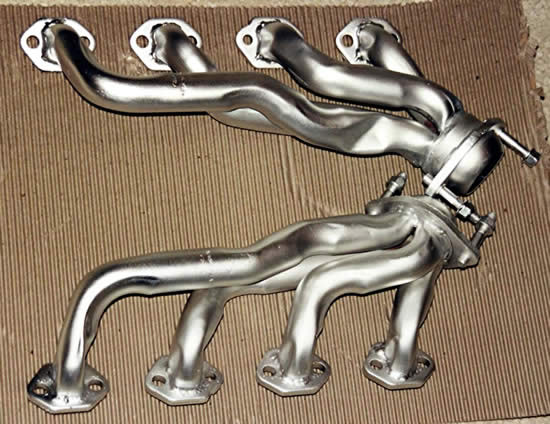 The re-assembled engine, complete with the custom upper/lower intake insulator/gasket I made: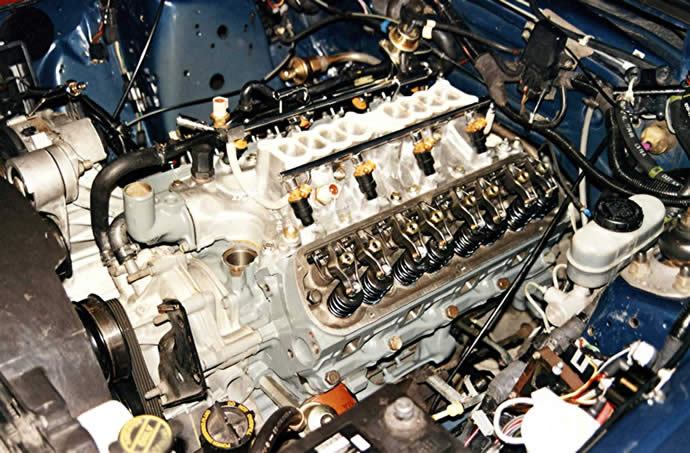 Crashing the Car in Stanley Park
Now the stuff of legend, one fine day in 1989, while at a business lunch in downtown Vancouver, the conversation drifted over towards discussing performance cars. The next thing I knew, all three of us, dressed up in suits, were piled into my Mustang, headed for the nearby Stanley Park, to do a quick hot lap of the seawall drive. I had recently completed the above engine upgrades and was eager to show off the new found power under the hood.
We drove slowly around the first part of the seawall drive as we spotted police on horseback. But when we got to the Pipeline Road turn, just after Lumberman's Arch, I took the opportunity to dive down that more secluded road and attempt a trailing throttle over steer corner at about 40mph. I managed to negotiate the corner successfully but added a bit too much throttle, too early, coming out of the corner and the rear end came around too far to catch.
The road was narrow and lined with large, mature fir trees and I was headed towards them at a high rate of speed. I chose a spot to head off the road between 2 trees and was shocked to hear/feel an explosion of sorts as the car came to an abrupt halt a few feet off the road - there was a huge bolder lurking just behind the bush I drove into. All the windows were shattered and the doors were jammed shut so we climbed out the windows. Luckily no-one banged their heads on the steel roll bars or otherwise were cut with flying glass.
Within a few minutes the police on horseback arrived and asked me what happened. I told them 'I was going too fast and lost control'. The officer I was talking to took one look inside the car and said 'Nice car. A real shame. Looks like you've learned your lesson. I'll call you a tow truck.' Then he got back on his horse and rode away without writing me a ticket. How's that. That was basically the end of the Mustang though.
To this day in 2007 I have never had another accident in over 30 years of driving, and have never hit or been hit by another vehicle on a public road. I have lost control of various cars racing, or testing them, on race tracks or public roads late at night, and have more often than not had near misses with off-road slides and spins, but I managed to never do any real damage to any other vehicles.
How-ever, since 2004 there has been criminal legislation in place in Canada barring 'street racing' and some of my automotive performance loving acquaintances have been caught going too fast on public roads with serious legal consequences as a result. My take-away from all of this: not only is it no longer worth the risk to drive quickly on public roads, but there are too many cars and too many opportunities to screw up now and either go to jail or hurt/kill someone else. These days I do all of my performance driving on race tracks. Period.
Ford Mustang Magazine Articles
I credit Car and Driver magazine in 1986 for alerting me to the potential for fun and performance of the V8 Ford Mustang, but after I purchased the car, it was pretty much Hot Rod magazine that I read every month, looking for tips on how to make more power and get down the drag strip quicker. Here are some of the articles that inspired me: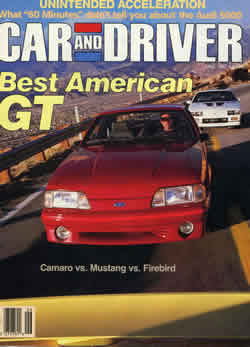 Best American GT - Camaro vs Mustang vs Firebird
A stock 1987 Mustang 5.0 GT review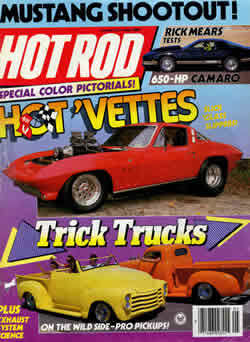 The original stock 1987 Mustang 5.0 LX and GT reviews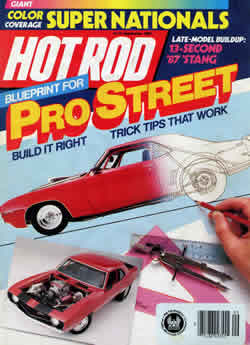 The second in a 3 part series 'Speed Breeding' covering the Kaufmann '87 Mustang project
This was important, ground-breaking research into creating an affordable 13 second (and eventually 12 second) street/strip car in an era where this had not been done before. Eventually the '87 Mustang became the new 55 Chevy - an 'everyman's' hot rod, the opening act that built the foundations for a true muscle car Renaissance in the 1990s and the next millennium.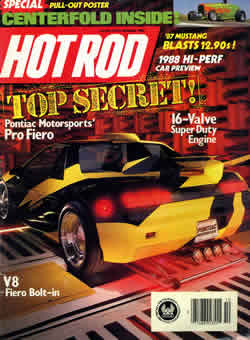 The last in the 3 part series 'Speed Breeding' covering the Kaufmann '87 Mustang project
12.9 seconds!
Back to my Automotive overview and history
Back to my 1983 VW GTI web page
Forward to my 1987 Ford Scorpio web page