2000 Mercedes Benz E55 AMG (owned 2000-2004)
Driving this 'original' Mercedes AMG 'hammer' was an exclusive pleasure in its day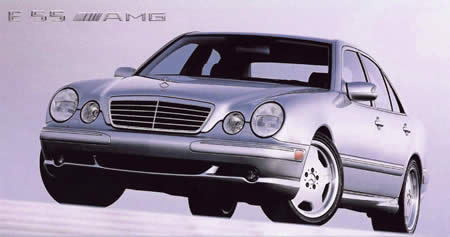 Mercedes acquired the legendary German AMG aftermarket tuning company in 1999 which was responsible for the creation of the original AMG Hammer (see the AMG Hammer review in Car Magazine, December 1986) amongst many other rod rodded Benz monsters over the years from the late 1960s onwards, and it was the perfect answer to BMW's M division which was gaining in popularity with the go-fast baby boomer set. The first Mercedes produced AMG 'hammer' was this 2000 E55 and it took the automotive world by storm with its 4.9s 0-60mph and 13.3s 1/4 mile factory stock time slip and 4 fully functional doors for use by family members and business associates - the perfect gentleman's hot rod.
While it was a bit hard to do a good smoky burnout (there was just enough torque under the right conditions to light'em up - unlike the later 2004 E55 which would shred the tires any time you wanted to - see my automotive videos), the normally aspirated 5.4L engine was a nicely balanced piece. The car was relaxing to drive at a fast or slow pace. My wife rates this as the nicest car I have ever owned.
I upgraded to the newer 2004 supercharged E55 when it came out because the idea of owning a 500hp 4 door sedan just seemed too cool to pass over. Ultimately Mercedes ruined the AMG brand by providing an AMG option for literally every model they made, thereby forcing dedicated gear heads like myself, who are steeped in high performance motoring traditions and concepts of exclusivity, to share their rides with anyone and everyone who walks into a dealership with a big wallet.
Performance Data
According to various magazines, the official time slip for this car should be 0-60mph in 4.9s and 13.5s @ 106mph in the 1/4 mile. I took my stock 2000 AMG E55 to the race track, and without any practice or decent off-the-line traction, I managed an honest 13.3s @ 105mph time slip (below):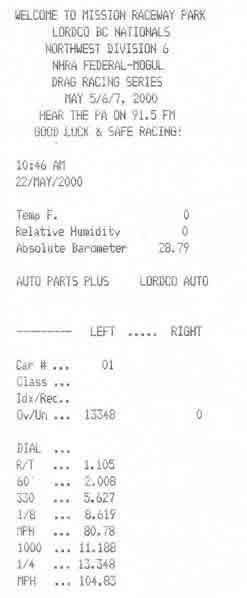 2000 Mercedes Benz E55 AMG Magazine Articles
Car & Driver - January 2000 'Mercedes Benz E55 - Torque is not cheap'
The Car Connection - 2000 'Mercedes Benz E55'
'Battle of the Best - Fastest 4 Door Face-off'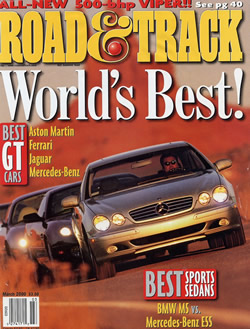 'Best Sports Sedans - BMW M5 vs Mercedes Benz E55'
Back to my Automotive Hobby overview and history
Back to my 1995 Dinan/BMW 540i web page
Forward to my 2004 Mercedes E55 web page