Book: Some Childhood Memories
A whimsical reflection back upon my youth
I wrote this book on the occasion of my 40th birthday in 2001 - specifically for the use of my three children, as well as my nieces and nephews. In the intervening years since then it has often been a staple for bedtime reading at our home, as well as a source of inspiration for various re-enactments of projects, pranks, and visits to old haunts. I really enjoyed the experience of documenting and sharing these memories with the next generation - and it is fun to read the book myself and have a good laugh or reflection on what I was thinking and doing both 40+ years ago, as well as how I was reflecting on my youth at the point when I turned 40 (the book was finished only a few days before 911).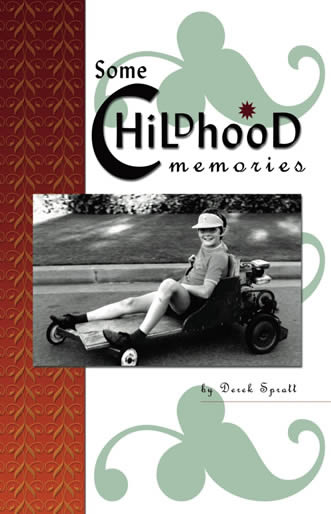 194 Pages - Full Colour, Hi resolution photos and images (39MB)
Click here for a link to the accompanying music selections from my youth that go along with this book
Celebrating at Disneyland Together
As part of my 40th birthday celebration, I flew my extended family down to Disneyland from Vancouver and Toronto to have some fun together and present this book to everyone - before all of our children grew up and moved on to their separate teenage and adulthood paths. It was my family's idea to surprise me with the blue shirts stating "I'm with Derek, he's 40" and my own shirt stating "I'm Derek, I'm 40".
Maybe it was the somber post 911 (3 weeks after) period, but everyone that saw us wearing our blue shirts smiled, called out to us, and made us all feel special. I met one woman in particular who walked up to me, hugged me, and with tears in her eyes said "I want to thank you and your family for sharing your special occasion with all of us after what happened in NYC. God bless you all and may you travel safely back home together afterwards".
Those days together as an extended family in Disneyland, reflected in the wonderful framed 'thank you' photo presented afterwards to me below, are cherished memories indeed.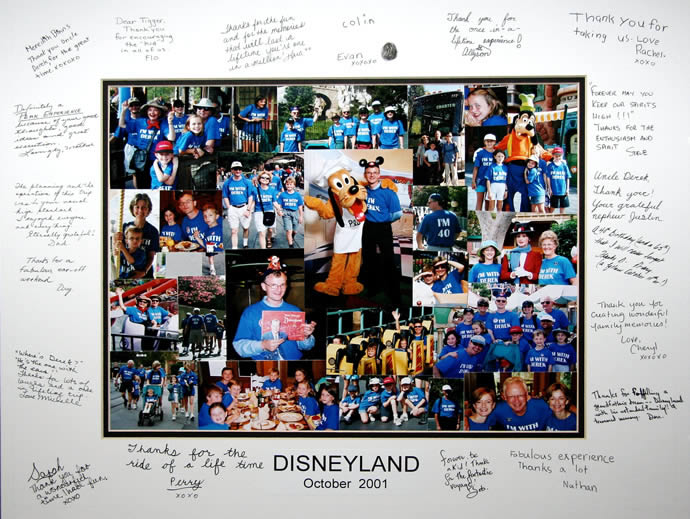 A hi resolution version of this image can be viewed or downloaded here
(right click on this link and select 'save target/link as . . .' to save the image to your disk, or just left-click the link to view it within your web browser)