Queens University Electronic and Computer Music Compositions (1979-1983)
Strange and wonderful musical 'experiments'
Electroacoustic and Computer Music Compositions
The late 1960s saw the introduction of electronic music synthesizers, which were quickly utilized on ground breaking rock albums such as The Beatles - Sergeant Peppers, ELP - Oh What a Lucky Man, and Yes/Rick Wakeman LPs, to name a few of pioneering artists and groups. By the mid 1970s electronic music was a mainstay of the pop music scene.
When I arrived at Queens in 1979 I quickly investigated the Music Department's electroacoustic studio and realized that I could take a number of elective course through that department while completing my core electrical engineering course load. My 2 Electroacoustic profs, David Keane, and Bruce Pennycook, encouraged me to create some pretty far-out sounding recordings (see below). It was really interesting work.
By my final year at school I was able to register for a graduate music/computer science course in computer music. There we studied artificial intelligence and neuroscience (how the brain processes/perceives sounds), while we wrote 'music' in a software language called 'C music' and recorded the results at 2am in the morning when the VAX780 mainframe computers were idle and could output our 'compositions' from the DACs (16 bit digital to analog converters) to analog 2 track reel to reel tape recorders - un-interrupted by other users and their disk access and CPU hogging applications.
I don't have any surviving recordings from this course because I managed to accidentally delete them just before they were to be handed in, causing Bruce to fail me (nice guy). I had pleaded with the IT administrator to recover my backups for me but he was too busy to get around to help me out in my hour of need. Given that it was an extra elective it didn't impact my graduation marks though.
In parallel with this computer music course, I took a 4th year electrical engineering digital signal processing course and hand built an IIR (infinite impulse response) digital filter board from discrete TTL logic - the wire wrapped board had about 50 ICs (integrated circuits) on it. I was really interested in the emerging field of digital audio and digital signal processing. This was during an era when the Queen's electrical engineering lab used Motorola 8-bit 6800 processors clocked at 667Khz (less than 1Mhz), with 1024 bytes (not Kbytes or Mbytes) of RAM and ROM.
I few years after this, Yamaha introduced the first digital synthesizer, the 12 bit monophonic DX-7, which I subsequently owned. By the late 1980s TI (Texas Instruments) also introduced the ground breaking TI 56000 DSP (digital signal processor) - a chip that not only replaced my huge IIR filter board with one chip, but with infinitely more processing capability - the perfect solution for implementing digital audio projects with. We used it at Motorola for our RF modems to create software reprogramable modulation schemes.
When I graduated from Queens I attempted to secure employment in the DSP field, specifically in the area of acoustics and acoustical modeling, but I could not find suitable work (in 1983 there was a serious recession ongoing and only 9 of 110 members of my graduating class had secured employment by the end of our 4th school year - in contrast to the 1981 graduating class that had an average of 3 job offers per person).
Bruce Pennycook (below), along with David Keane (founder of the Queens electroacoustic studio), were my electroacoustic and computer music composition professors while at Queens (see their bios below):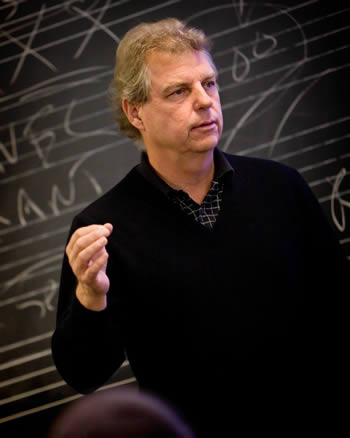 The Queens University MiniMoog Synth: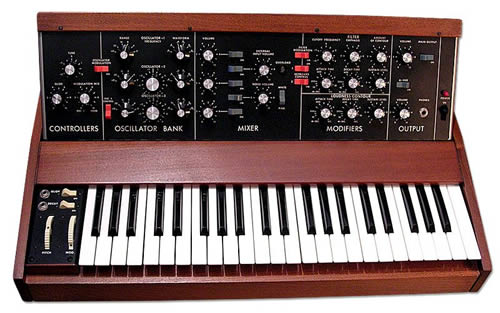 The Queens University ARP 2600 Studio Synth: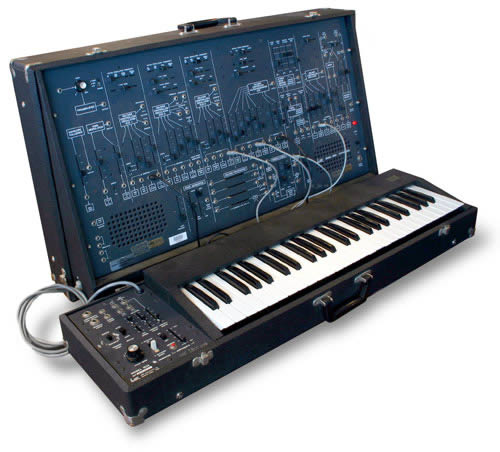 The Queens University audio patch bay that allowed for quick signal routing in the studio: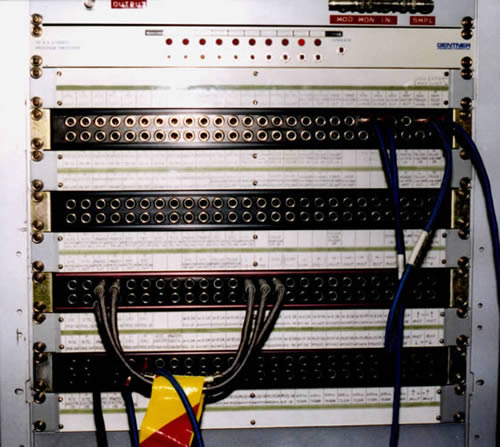 The Queens University Studer 2 Track Mastering Unit (I first 'multi-track recorded to a 4 Track unit and then mixed down to this unit):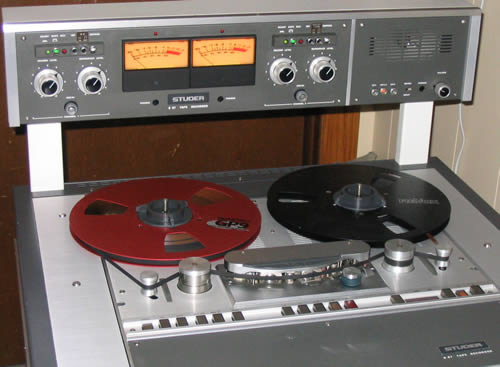 My Queen's University Era Electronic Compositions
Here are some of my electronic compositions that were created and recorded on the above equipment in the Queens University Music Department ElectroAcoustic ('David Keane') Studios (click to listen to):
Note: All audio is provided as Apple QuickTime files*

'Commencement' - 1982 (5:49 min:sec, 6MB)

'The Commies aren't that bad after all' - 1982 (4:59 min:sec, 5MB)

'Reel 2' - 1982 (5:08 min:sec, 5MB)

'Reel 6' - 1982 (3:16 min:sec, 3MB)

Bulk ZIP File for download:

Right-click on the link below and select 'save link as' or 'save target as' (browser dependent) to download a ZIP file containing all 4 tracks listed above, as part of a single file that can be uncompressed back into a list of individual tracks that can then be imported into the iTunes media player application on your computer, and burned to CDs, etc. as required (once you unzip the files into a temporary directory, just drag that directory into your iTunes library and they will automatically be imported):

Queens U - Electronic Compositions - 1982 - Apple iTunes AAC files (ZIP file containing all 5 tracks, 20MB)
Biographies for my Professors
David Keane:
Composer, teacher, bassist, b Akron, O, 15 Nov 1943, naturalized Canadian 1974; B SC music education (Ohio State) 1965, B MUS (Ohio State) 1965, M MUS composition (Ohio State) 1967. He studied piano with George Haddad and double bass with Theron McClure 1961-5, Robert Meyer 1968-70, and Allan Molitz 1971-2. He moved to Canada in 1967 and taught music in schools, played double bass 1969-70 in the Vancouver Symphony Orchestra, and instructed 1969-70 at Simon Fraser University. In 1970 he was appointed to Queen's University to teach composition and double bass. He founded the university's Electroacoustic Music Studio in 1970 and remained director of it in 1991. His book Tape Music Composition (London 1980) is an important study of the aesthetics and technology of electronic music. He has written many articles and reviews about music technology, pedagogy, and aesthetics for CME, Computer Music J, CUMR, Musicworks, Queen's Q, and other journals.

Keane has received many commissions from Canadian and European organizations and has traveled extensively in Europe and North America to deliver papers and to supervise performances of his compositions. He has used a wide variety of styles and media, and his prolific output ranges from works for traditional instruments to tape pieces and sound sculpture. His style was initially influenced by Hindemith, Bartók, Stravinsky, and early music (eg, Machaut). His interest in electronic music dates from 1963; much of his music involves electroacoustic aspects. After a brief flirtation with aleatoric music, his style became aligned more closely to minimalism, with highly concentrated melodic and rhythmic development. His music is a reaction against highly formalized structures and serialism; it evinces tonal centres but avoids functional harmony.

Keane is a founding member of the Canadian Electroacoustic Community and the Confédération internationale pour musique électroacoustique, a member of the CLComp, and an associate of the Canadian Music Centre.
Bruce Pennycook:
Composer, teacher, saxophonist, b Toronto, 5 Oct 1949; B MUS composition (Toronto) 1973, M MUS composition, theory (Toronto) 1974, DMA musicology (Stanford) 1978. He began his musical training with clarinet and saxophone lessons. Later on, he studied composition at the University of Toronto with Gustav Ciamaga, Lothar Klein and John Weinzweig, winning the Sir Ernest MacMillan Award/Fellowship awarded by CAPAC in 1973. He then went on to study musicology at the University of Stanford, Cal., under John Chowning and Leland Smith. Back in Canada, he taught at Queen's University (1978-87) where he founded a music and technology research centre. In 1987, he joined the McGill University Faculty of Music to teach computer music and the applications of electroacoustic techniques to live performance.

As a composer, he has shown an interest in a mixture of acoustic instruments and live electronics, as displayed in works such as Praescio I (1987), II (1988) and III (1988, recorded on 4-ACM 37-CD). Other compositions include If Carillons Grew Wings for tape (1975, recorded on Redwood ES-10) and Speeches for Dr. Frankenstein (1981) for soprano and computer-generated tape (recorded on Folk. FTS-37475). Pennycook wrote about the latter work in ' Speeches for Dr Frankenstein: an orchestral approach to music synthesis,' CUMR, vol 4, 1983.In 1987, the Kingston Symphony premiered a commissioned work, In Your Medium (1986) with soprano Carol-Lynn Reifel. As a saxophonist, Pennycook has performed in Canada, in the USA and in the Netherlands. He has published articles on computer music in specialized periodicals. He is a member of the CLComp and the Canadian Electroacoustic Community, and he is an associate of the Canadian Music Centre.

* Audio files are encoded in Apple iTunes/QuickTime AAC format (128kbits/s). If you do not have Apple QuickTime installed, you can download it from: www.apple.com/quicktime/download

If you are using a Windows PC running Internet Explorer, and you are having trouble playing web videos that don't conform to Microsoft's Windows Media Player file formats, then try a better browser that is free, standard's based, and very powerful - and one that works well with Apple QuickTime videos: Firefox. Download it here: www.mozilla.com/en-US/firefox/