Point Grey Green Room Gang 1970s Era Musical Reunion (June 8th 2002)
Roy Hudson's great musical experiment unleashed a torrent of talent upon the world . . .
Note: All audio is provided as Apple QuickTime files. Video is H.264 MPEG-4 formatted*
Some of the members of the 'Green Room' gang (plus myself) in the 1970s (my apologies to those people who I may have missed from this era such as Bill Dudlets):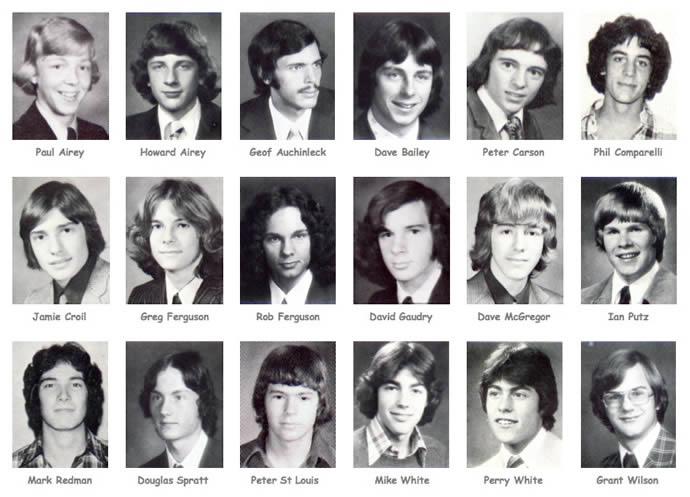 Click here to download the 2002 Reunion Booklet (31MB - lots of old photos from 1973-1977 included)
A few sample photos from the reunion booklet: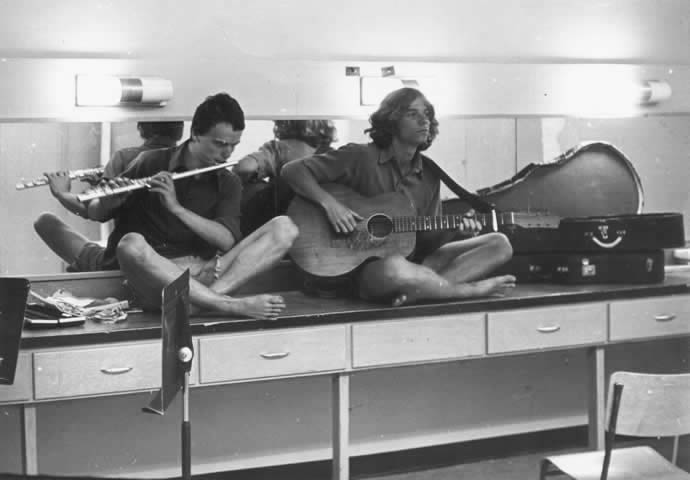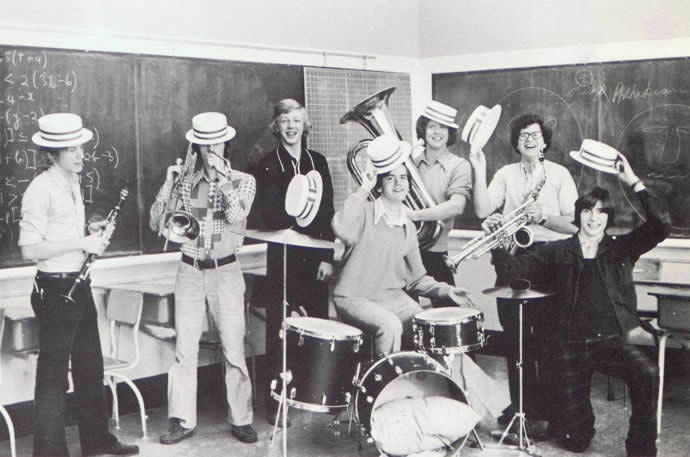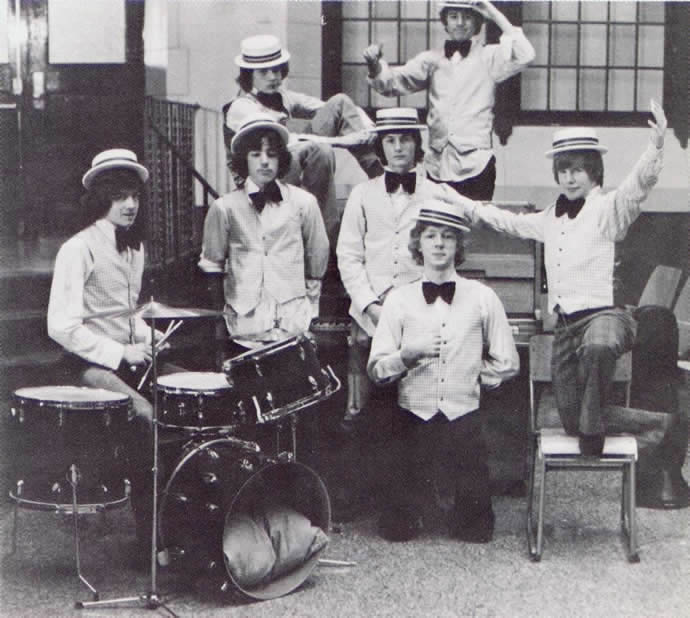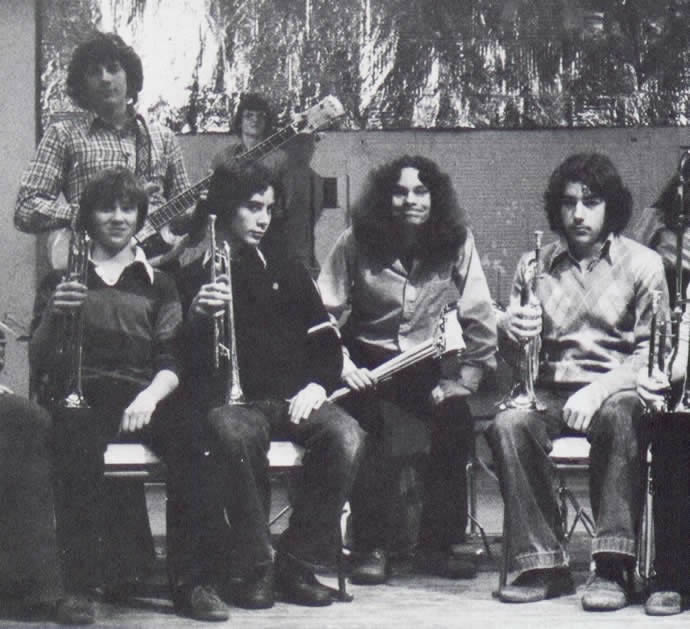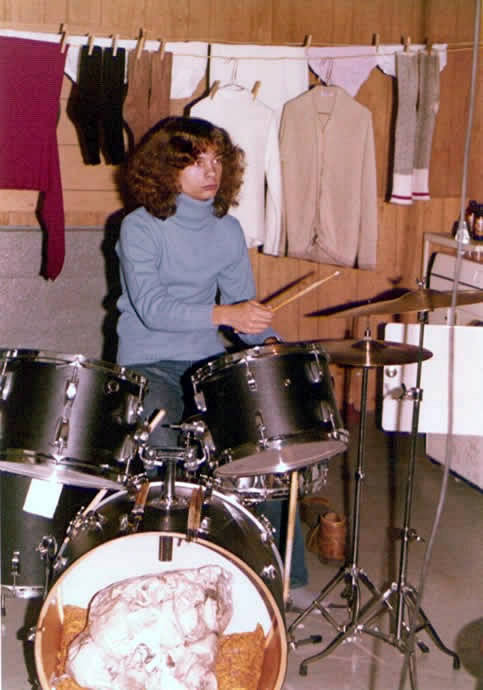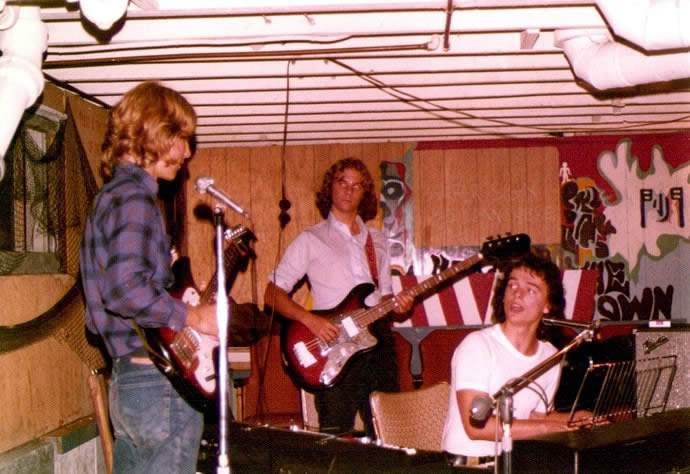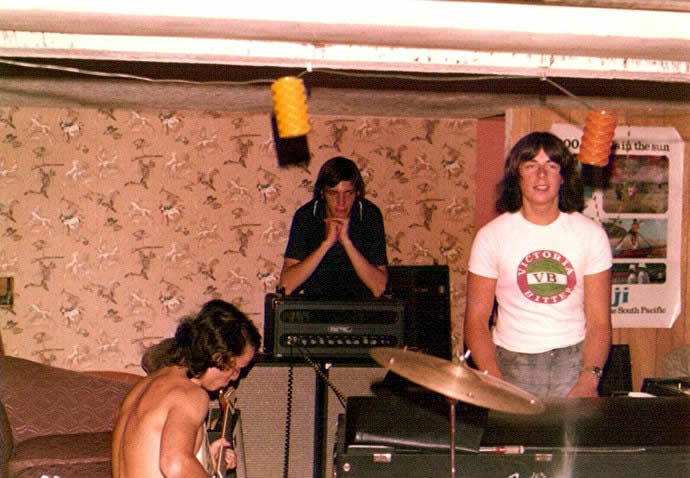 My 'Point Grey Green Room Gang Musical Reunion' idea was hatched while I was writing my 'Some Childhood Memories' book in 2001. I had always been impressed with the number and quality of musically inclined students who passed thru the halls of Point Grey High School, many whom were my brother Douglas' friends. I looked up to these people as a budding young musician myself. I had my own musical experiences with my fellow students as well and collectively we could all point to one influential person who helped make it happen - Roy Hudson, the music teacher at Point Grey during this period (Roy died in the early 1990s of AIDS).
In memory of, and dedicated to Roy Hudson: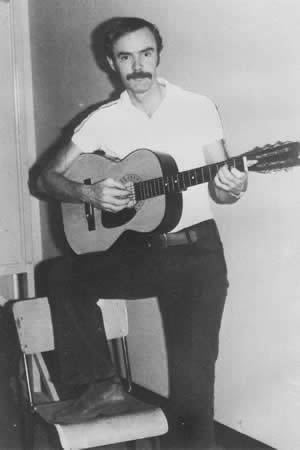 Roy was a free thinker and an unorthodox teacher, perfectly suited to the times. Those of Roy's students were were truly musically inclined were encouraged to practice and hone their art, and Roy's band facilities and his personal assistance were always at hand. Before, during, or after school, Roy and his students were always making music - on and off the school premises. Music ruled the day. I personally owe a debt of gratitude to Roy for padding my high school diploma for Band 10, 11, and 12 courses, of which I received straight As in - without actually having taken any such courses. See what I mean about being supportive?
One of the people I wrote about in my book was Geof Auchinleck, a fellow student who with his interest in all things electronic, and a love of music, took great pains to record many student performances in and around the school 'Green Room' - the backstage area where all of the musicians and their groupies hung out. Geof also set up his recording equipment in the basements of family homes (including ours) to capture additional tracks which he managed to hold onto for the next 30 years in a shoe box in his parent's basement.
Geof's father had recently passed away at the point in time that I contacted him about my book (I was attempting to locate everyone I wrote about in order to catch up with them and present them with a copy of my writing) and he had been going through his family possessions with his mom and found this old shoe box full of recording tapes. I explained that I had an advanced digital recording studio with professional grade archival restoration software and that I would be very interested in transferring the tapes to CD. Little did I realize that it would take me more than one hundred hours to complete the process of cleaning up 9 hours of recordings - but I did it, and Geof and I were quite impressed with the results.
With a set of headphones on, when listening to many of the recordings (which are in stereo), one has the feeling of being transported back in time to the early-mid 1970s. The voices, the sounds, the richness of the music - it all has the net effect of powerfully drawing one's mind back to high school, back into a bygone era - one of magic and great possibilities. Some 30 years later a few of these fine young musicians have passed away, while others have pursued a life-long career in the music industry. Some examples of former students staying in the music industry include:
David Gaudry - principal violist for the San Francisco Orchestra, Pixar studio musician

Dave Bailey - sound recording engineer in LA

Paul Airey - owner of the Sound Kitchen recording studios

Jamie Croil - profession musician

Ian Putz - profession musician and recording engineer

Phil Comparelli - professional musician

Perry and Mike White - professional musicians
Well, with the success of the restoration of these recordings, I couldn't just sit still and let them rot in my basement for another 30 years. I had the burning desire to contact everyone who was associated with the recordings and get a copy to them. But things have a way of expanding in scope and size, and I quickly seized upon the idea of attempting to host a reunion party at our home to celebrate the event and re-connect everyone together.
One of the challenges was simply locating everyone again. I started with the old contact information in the high school annuals and ended up talking with most everyone's parents. Each time I talked with one of them their interest in the tapes and in re-connecting with their own children, and their children's childhood friends, was piqued. I too was drawn into the conversations with the parents I talked to (many of whom were in their late 70s and 80s by 2002) and quickly came to the conclusion that the reunion event would be hosted for the former students and their parents.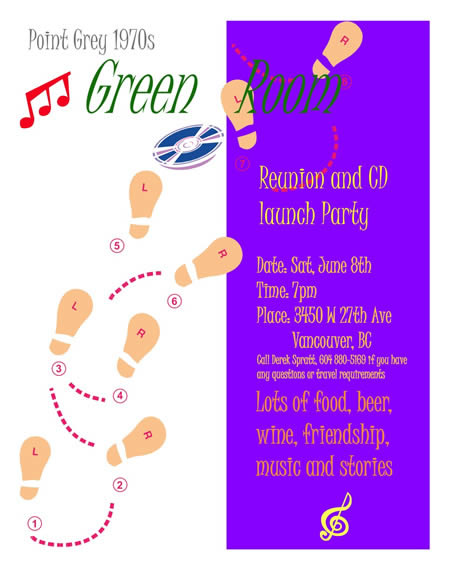 Cheryl and I quickly got to work. We booked and paid for flights for people from eastern Canada, and the US while we pulled together party favours, made posters, booklets, copied CDs, hired a caterer, and at the last minute, as a result of a simple conversation with Rob Ferguson, who asked 'Should I bring my drums?', I ran out to Long & McQuade Music and rented a bunch of high-end guitars and amps in the hopes of getting a 'jam session' going in our basement in the later part of the evening.
The day of the event was sunny and warm, and we all met up en mass in our backyard. People looked a lot older, but the personalities were the same, there was ample laughter, smiles, and great stories were told, and we all quickly realized how magical the event really was. Even Kitty Carson at age 90, mother of Peter Carson, our old elementary school music teacher attended (at least one of the former students, Jamie Croil, said 'Kitty stuck a trumpet in my hands in grade 5 and told me to play it - and I make my living today playing a trumpet, thinking back to that fateful start to my career in her classroom at Kerrisdale Elementary').
We took everyone inside and played the 30 minute compilation track I had mixed together and it had a lightning effect on everyone. Some of the former students spotted the rented gear and started to plug in the guitars and warm up. Soon thereafter the amps were wailing and the neighbours became aware that sometime big was up at our house (it was loud). Some of the parents exited at that point, but others stayed on for several hours, at a safe distance in the backyard, listening to the music and catching up themselves on conversations and relationships that were rekindled. The jam session continued until 3am - no-one really wanted it to end.
Click here for a Medley Track of the Green Room Gang Tapes (1973-1977) (32 min, 30MB)
Click here for a full list of the individual sound tracks
Click here for a Video of the reunion Jam Session (2002) (6:38 min:sec, 41MB)
Three things were deeply touching for many of us as we reflect on the event:
When Kitty Carson pulled out her recorder, sat down, and asked me for another glass of wine, saying to me: 'I'm not going home, I'm jamming with my boys. This was a big part of my life and I want to re-live it again.'

When Kitty's son, Peter, who was a towering musician as a youth (and who is extensively featured in the tapes), and had suffered with debilitating illness that kept him from playing music for many years, sat down at the keyboards later in the evening, and literally tore the keys off with a virtuoso performance that left everyone's jaws slack

When I received phone calls and letters from the parents after the event saying how meaningful it had been for them too (in particular, one parent explained to me 'I was very focused on my career at that point in our lives and didn't realize until later on that I had missed out on much of my sons musical exploits - thank you for allowing me to retroactively experience this with them')
Life is what you make it, and even though there was a ton of time and effort applied to pull off this event, it was absolutely worth every penny, every last ounce of effort. I wish we could do it again but this was a once-in-a-life-time occurrence for us all.
Howard Airey on bass, Dave Bailey on keyboards: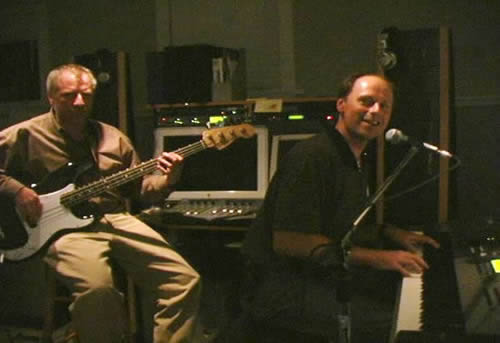 Greg Ferguson on guitar, Dave Bailey on guitar, and David Gaudry on bass: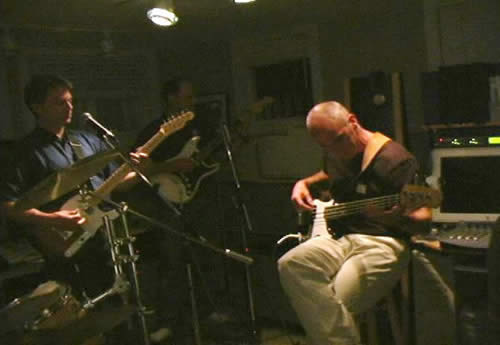 Mrs 'Kitty' Carson, our elementary school music teacher, jamming with 'her boys' at age 90: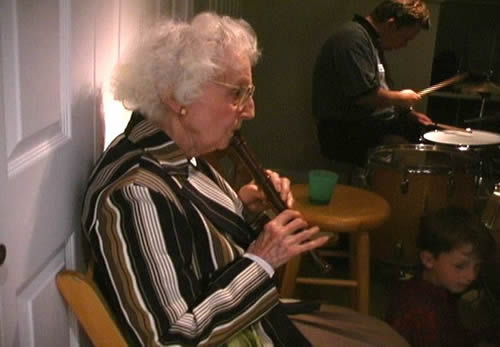 My brother Douglas, finally pulling out his horn and joining in: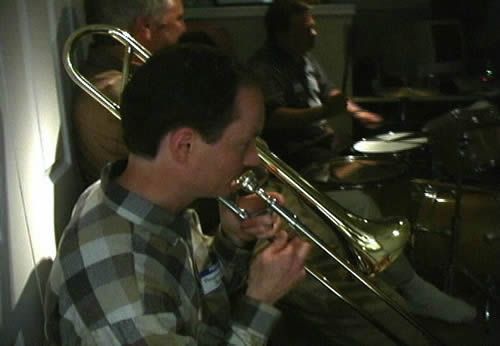 Douglas, my son Perry, Geof Auchinleck, and Rob Ferguson on drums: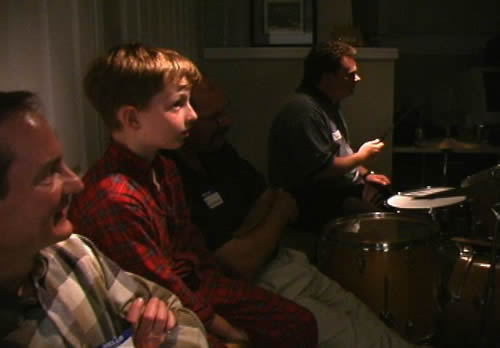 Peter Carson, grand master of all instruments, rips the keys with a stunning rendition of Chicago's '25 or 6 to 4':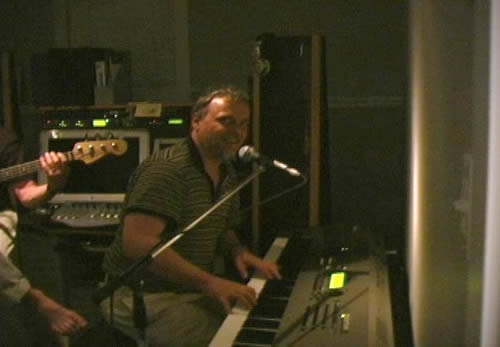 * Audio files are encoded in Apple iTunes/QuickTime AAC format (128kbits/s). If you do not have Apple QuickTime installed, you can download it from: www.apple.com/quicktime/download
If you are using a Windows PC running Internet Explorer, and you are having trouble playing web videos that don't conform to Microsoft's Windows Media Player file formats, then try a better browser that is free, standard's based, and very powerful - and one that works well with Apple QuickTime videos: Firefox. Download it here: www.mozilla.com/en-US/firefox/
Forward to the Point Grey Green Room Gang Tapes from 1973-1977