1967 Chevy Chevelle SS396 Street/Strip Car (owned 1996-2001)
Pushing the limits of what can be called 'a street car'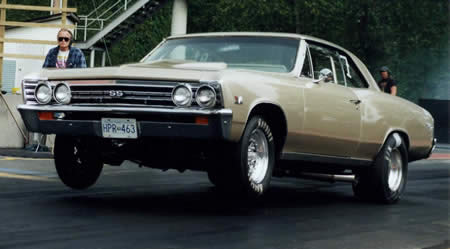 '67 Chevelle SS396 Videos
1967 Chevelle SS396 502cid Engine Dyno Test
This is a video of the first dyno test of our first Chevelle motor. It was fairly mild, in the order of 600hp when it had it's baby cam profile and dual plane intake. Eventually it was pushed closer to 700hp 'on the motor' and 1200hp on 1 stages of nitrous (which proved to be very unreliable as it lifted the heads and caused the gaskets to burn thru) - and eventually we changed to a completely new 548cid motor the next year.



1967 Chevelle SS396 - first ignition, MAJOR STREET BURNOUTS, racing and more
1967 Chevelle SS396 with 502cid motor/nitrous - testing and drag racing - 1998:
Our beautiful Chevelle started off with a fairly mild 502cid motor than ran 10.5s @ 128mph 'on the motor' and eventually got to 9.12s @ 150.7mph with a bigger cam, head work, intake/carb and 2 stages of nitrous (going from 600hp to 1200hp in the process). This video highlights some of the earlier phases of this car at the track as well as some other cars at Mission Raceway.
1967 Chevelle SS396 with our 502cid 'small' motor Drag Racing:
Our first year of racing the Chevelle used various versions of our 502cid motor, with various amounts of nitrous. On the smallest motor with the baby 'street' cam we made 600hp w/o nitrous and ran 10.5s @ 128mph. We eventually ran 9.12s at 151mph with a bigger cam and lots of nitrous (1200hp at the top of the track)


Competing in the Fastest Street Car competition at Mission Raceway:
This is professional video footage that Larry Pfister of Horsepower Heaven took of my Chevelle at the track
This car won 'Canada's Fastest Street Legal' title in the Super Street class in 2000, with 1300hp on tap (while passing BC's tough 'Air Care' test as well).