Project "Ultimate 1983 Rabbit GTI"
Performance ...
Index of Project web pages
Project Overview, Goals & Initial design specs
Project car initial condition
Chassis development
Bodywork & Paint
Suspension, Wheels, Tires & Braking System
Engine & Transmission
Electrical & Fuel System
Interior
Performance validation
VW Vortex Thread on this project
Videos
My original 1983 Rabbit GTI (owned 1983-1987)
Back in 1983 the VW Rabbit GTI delivered 0-60mph times of 9.7s and 1/4 mile performance of 17.7s @ 77mph. Those numbers seems very slow by today's standards, but they were class leading #s in the day (see all of the magazine reviews posted on my original GTI page).
With only 1800-1900lbs (race prepped with stereo, A/C and rear seats removed or fully decked out), even just on the 'motor' alone (at 240hp), thishot little GTI should have equal acceleration (until wind resistance starts to hold it back above 80mph) as my 2004 505hp AMG Mercedes Benz did, due to the 4300lbs weight of that car (and most other late model cars). That car did the 1/4 mile in 12.2s at 117mph and delivered a 0-60mph time of 4.2s. When the 100hp dry flow nitrous system is engaged, this GTI should be one fast and furious car, if the power can be transmitted from the wheels to the road surface ... stay tuned. Could it run a 10s 1/4 mile time slip?
33 years to the month, my GTI sat again in my childhood home's driveway: I took delivery of my original GTI in May of '83 but it didn't get licensed until August '83 (no job, no money, no license …).
I drove about 3 hours in the car in total today - yes it was driven in the rain and got nice and dirty (I took my family and my dad out for rides), shaking out the initial bugs and gremlins. It will be about 1-2 months to get the car behaving the part (fast, fun, safe and semi-civilized). I discovered lots of things that need addressing already: the brakes are a bit mushy and need professional bleeding, the steering alignment also could use a pro setup alignment, there are some squeaks and rattles, the fuel gauge needs calibration, one of the radiator fans is DOA (I don't think I will need 2 after all so maybe it will just be disabled), for some reason the engine shuts off at 6,000rpm, just as the fun starts, there was a fuel leak when I topped up the tank, the windows don't roll up properly, it is a bit harsh and noisy, etc - you get the idea ...

The GTI is spending the night at the mechanics and should be certified road worthy tomorrow so it can be fully licensed. I will then have time to run system diagnostics on the crank and cam triggers - I suspect that the old-school analog inductive crank sensor is crapping out and may have to be replaced with an external digital hall effect crank sensor (which requires that a 60-2 tooth wheel be placed between the crank pulley and the crank itself). There may be something else going on but the computer says 'lost sync' in the RPM readout and the ECU goes a bit nuts for a while so ...

With fuel in the tank, carpet mats, A/C, stereo, sun-roof, full interior, etc. it scaled in at 1950lbs, with a 66/33 weight distribution. With some of this crap pulled out on race days I'll have an 1800lbs car.

I have 3/4" gaps from the top of the tires to the fenders all-round so ride height is perfect. Suspension is H&R race springs and Bilstein race struts and shocks. A bit stiff but not as bad as I thought it might be. Still, I will also order in some H&R sport springs and try them out - September 1, 2016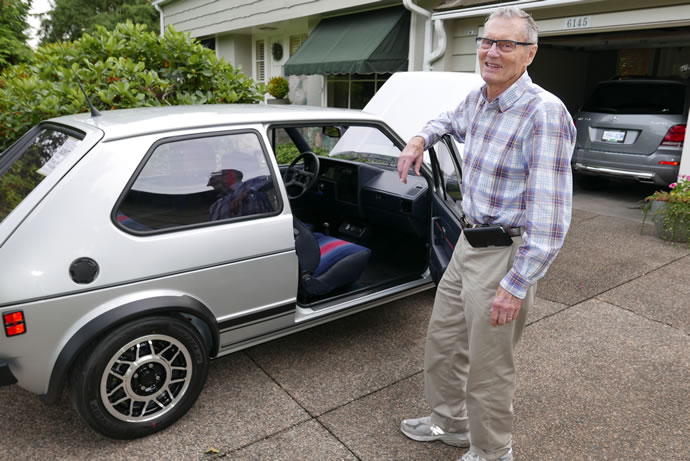 Index of Project web pages
Project Overview, Goals & Initial design specs
Project car initial condition
Chassis development
Bodywork & Paint
Suspension & Braking System
Engine & Transmission
Electrical & Fuel System
Interior
Performance validation
VW Vortex Thread on this project
Videos
My original 1983 Rabbit GTI (owned 1983-1987)
Back to my Automotive overview and history
Forward to my 1987 Ford Mustang 5.0 LX web page