Project "Ultimate 1983 Rabbit GTI"
Electrical & Fuel System ...
Index of Project web pages
Project Overview, Goals & Initial design specs
Project car initial condition
Chassis development
Bodywork & Paint
Suspension & Braking System
Engine & Transmission
Electrical & Fuel System
Interior
Performance validation
VW Vortex Thread on this project
Videos
My original 1983 Rabbit GTI (owned 1983-1987)
For the engine management system I have chosen what I beleive to be the most advanced ECU available in the market today: the Holly Dominator EFI system. It is a self-learning/mapping system that senses all fuel to air ratios via a wideband O2 sensor - this is a really powerful and unique feature.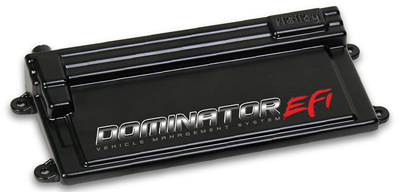 Here is a partial list of features:
Twelve sequentially driven injector drivers, capable of driving up to 24 low or high impedance injectors. Multiple staged injector strategies

Twelve channel Distributorless Ignition (DIS) outputs capable of directly driving "Smart" ignition coils or Holley DIS coils

Integrated dual channel wide band oxygen sensor controls

Integrated water/methanol injection control

Integrated "Data Acquisition and Control"

Self-tuning fuel table strategy greatly simplifies tuning process

5.7" full-color touchscreen LCD allows easy on-the-fly tuning, data-logging or can be used as an easy to see graphical gauge panel

Advanced idle, closed loop, and enrichment strategies allow for very stable operation

Two channel knock control sensor inputs for both one or two wire knock sensors

Dedicated fuel and oil pressure inputs

Controls both stepper and PWM Idle Air Control (IAC) motors

Speed density, Alpha-N, or combination fueling strategies

3 Rev Limiters

13 - "Multi-Inputs" – Can be configured as a 0-5V sensor input, 0-20v sensor input, thermistor temperature input, or high or low voltage input

30 - 0-5V Sensor Inputs – Configures any 0-5V sensor as well as some can be used as switched high or low inputs

4 - Speed Inputs – Can be configured as a digital (square wave) input or an inductive input

20 - 12v PWM Outputs – Can be configured as PWM or switched 12V outputs. Rated at 2A maximum

16 - Ground PWM Outputs – Can be configured as PWM or switched ground outputs. Rated at 2A maximum

4 Stage nitrous oxide control

Can be configured "Wet" or "Dry" with closed loop feedback
Progressive control based on time, RPM, or boost, requires part # 554-111
Lean or rich safety cutoff
Full timing retard/control configurability per stage based on RPM or time
Integrated water/methanol injection control
I'll be cutting out the stock spare tire/wheel well and I am thinking about mounting a custom RCI Racing fuel cell (for safety reasons, but connected to the stock fuel intake) and will also create a box for all electrical power systems for the vehicle, relocating most power panels, and using a small, lightweight, but powerful AGM (absorbed glass mat) technology racing battery that is mounted there as well.
Braille makes an excellent battery with plenty of cranking amps for street use in low temperatures, p/n B3121, 475 cold cranking amps, 31 amp-hour capacity, 21 lbs in weight and only 6.6" x 5.2" x 6.8" in size (and they can be mounted in any position)! These Braille AGM batteries are slightly upgraded/modified versions of the East Penn/Deka SportsPower Batteries, but with nicer packaging and battery terminals, mounting accessories, etc. - and this particular model is larger than the ones East Penn sells under its own brand name. I need the reserve capacity as I will be running 90/100W headlights, and a powerful audio system. Braille also makes hi spec versions in carbon fiber and Li-Ion for big $.

*** under development ***
Index of Project web pages
Project Overview, Goals & Initial design specs
Project car initial condition
Chassis development
Bodywork & Paint
Suspension & Braking System
Engine & Transmission
Electrical & Fuel System
Interior
Performance validation
VW Vortex Thread on this project
Videos
My original 1983 Rabbit GTI (owned 1983-1987)
Back to my Automotive overview and history
Forward to my 1987 Ford Mustang 5.0 LX web page