Project "Ultimate 1983 Rabbit GTI"
Electrical & Fuel System ...
Index of Project web pages
Project Overview, Goals & Initial design specs
Project car initial condition
Chassis development
Bodywork & Paint
Suspension, Wheels, Tires & Braking System
Engine & Transmission
Electrical & Fuel System
Interior
Performance validation
VW Vortex Thread on this project
Videos
My original 1983 Rabbit GTI (owned 1983-1987)
For the engine management system I have chosen what I beleive to be the most advanced ECU available in the market today: the Holly Dominator EFI system. It is a self-learning/mapping system that senses all fuel to air ratios via a wideband O2 sensor - this is a really powerful and unique feature.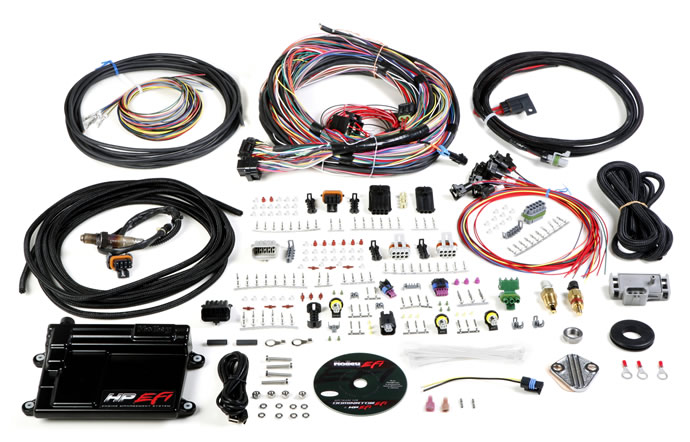 Here is a partial list of features:
Twleve sequentially driven injector drivers, capable of driving up to 24 low or high impedance injectors. Multiple staged injector strategies

Tweleve channel Distributorless Ignition (DIS) outputs capable of directly driving "Smart" ignition coils or Holley DIS coils

Integrated dual channel wide band oxygen sensor controls

Integrated water/methanol injection control

Integrated "Data Acquisition and Control"

Self-tuning fuel table strategy greatly simplifies tuning process

Advanced idle, closed loop, and enrichment strategies allow for very stable operation

Two channel knock control sensor inputs for both one or two wire knock sensors

Dedicated fuel and oil pressure inputs

Controls both stepper and PWM Idle Air Control (IAC) motors

Speed density, Alpha-N, or combination fueling strategies

3 Rev Limiters

30 - "Multi-Inputs" – Can be configured as a 0-5V sensor input, 0-20v sensor input, thermistor temperature input, or high or low voltage input

30 - 0-5V Sensor Inputs – Configures any 0-5V sensor as well as some can be used as switched high or low inputs

4 Stage nitrous oxide control

Can be configured "Wet" or "Dry" with closed loop feedback
Progressive control based on time, RPM, or boost, requires part # 554-111
Lean or rich safety cutoff
Full timing retard/control configurability per stage based on RPM or time
Integrated water/methanol injection control
I picked up the complete ECU system (sourced from Kinsler Injection) - boy there are a lot of wires that will need to be connected. I also picked up the remaining engine sensors and plumbing components from Techtonics ... - May 3, 2014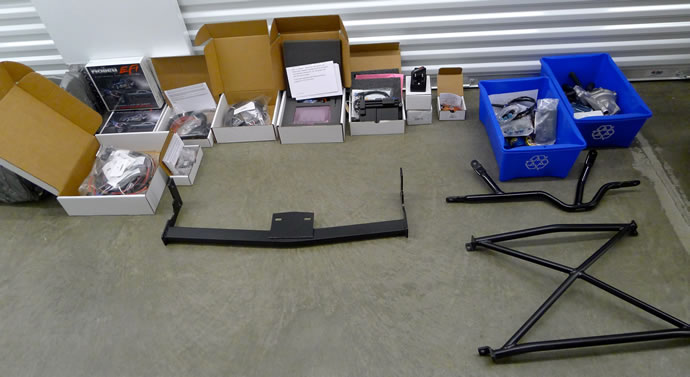 NOS Wizards Quadranoid, a dry flow nozzle, and small ID plastic tubing ...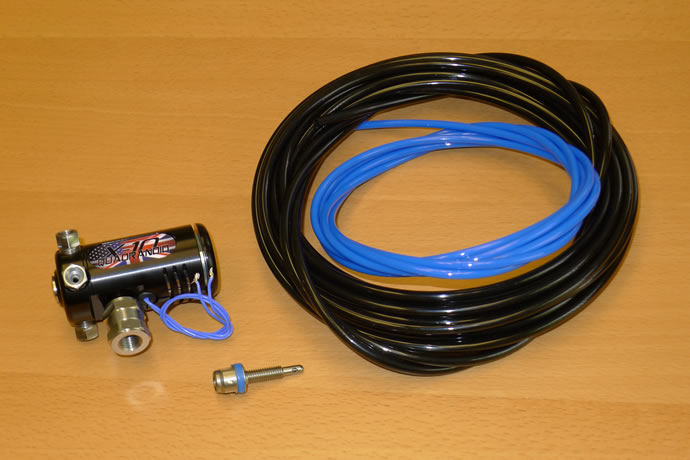 I am epoxy coating the fuel tank before installation - July 20, 2014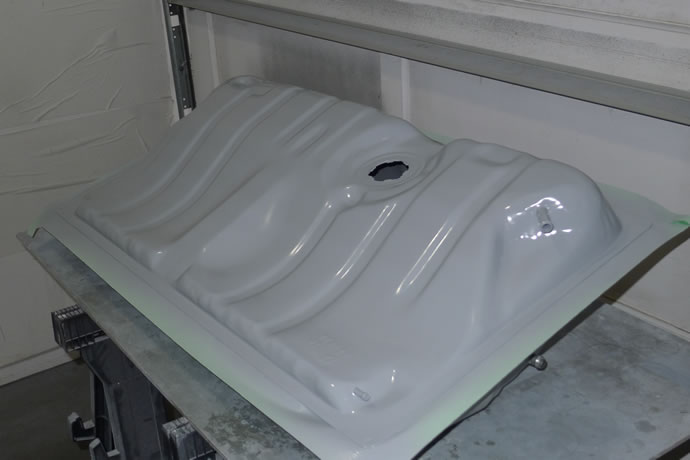 With the final painting complete I can now get on with planning and executing the fuel and brake system installation - August 17, 2014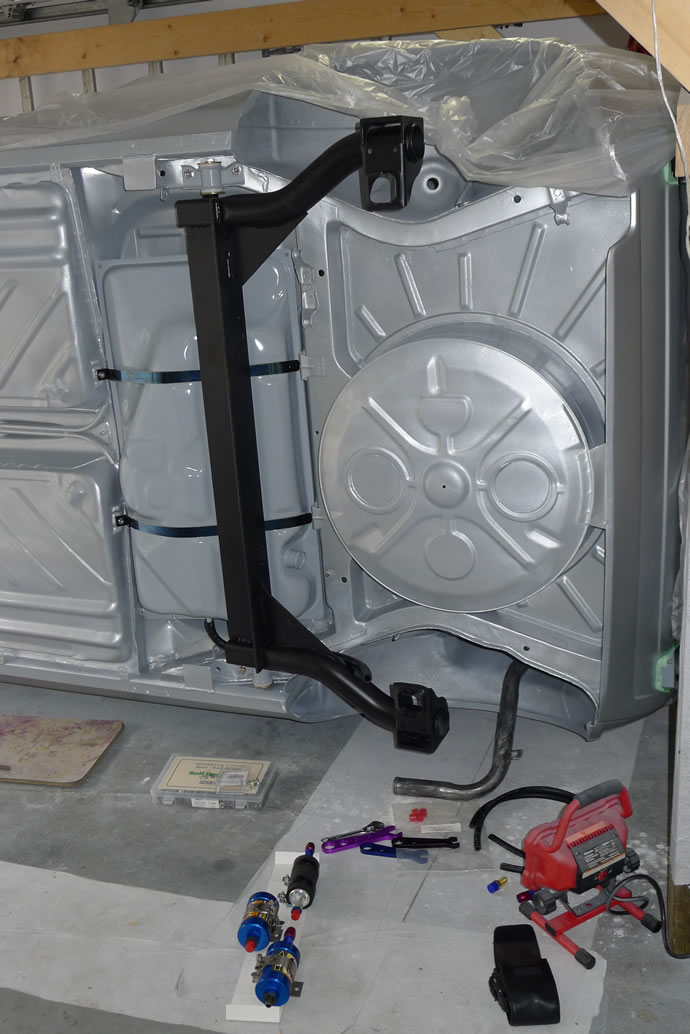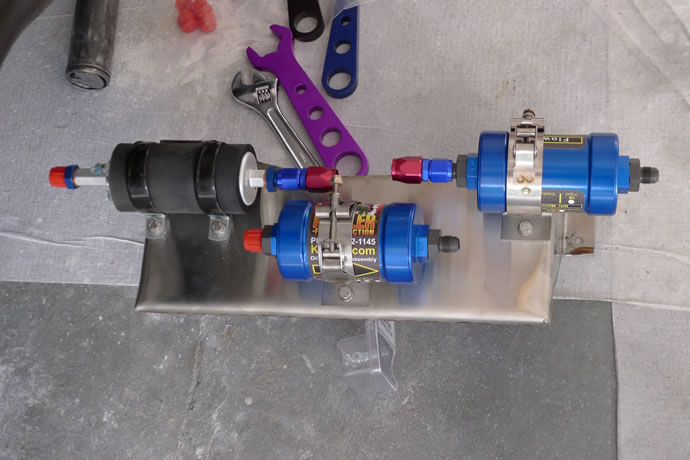 It was a tight sqeeze but I managed to route the fuel tank breathers together such that I can now install a rollover valve in the fuel filler neck area of the wheel well. I got the pump and filters final-mounted and the hoses routed as well. The Techtonics SS 2.25" exhaust system installation has also started but I was very frustrated with a few things that are only partially resolved at this moment: a serious interference fit with the driver side tank strap which required that I fabricate a bracket to allow the removal of the strap, plus I can't get the resonator to sit in the middle of the tunnel without an interference fit with the front hanger on the side of the tunnel (I think I will end up cutting and rewelding some pipe to solve this). The bottom line is that all of the really hard problems with the fuel system are now behind me and the exhaust system issues are on the way to being solved. I will need to mount the engine and exhaust racing header before making any final decisions on the exhaust system though - September 1, 2014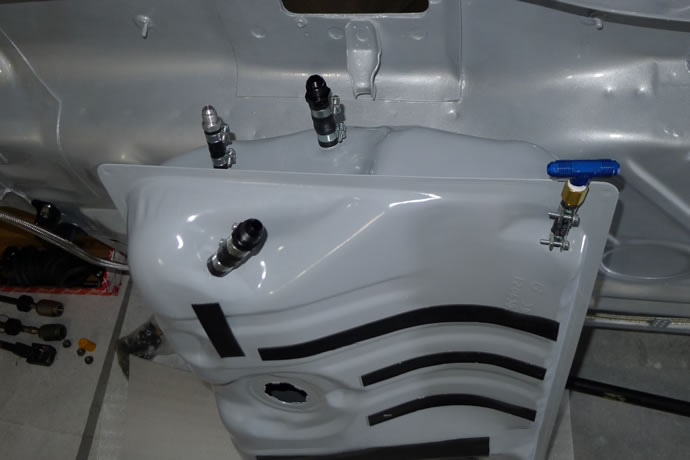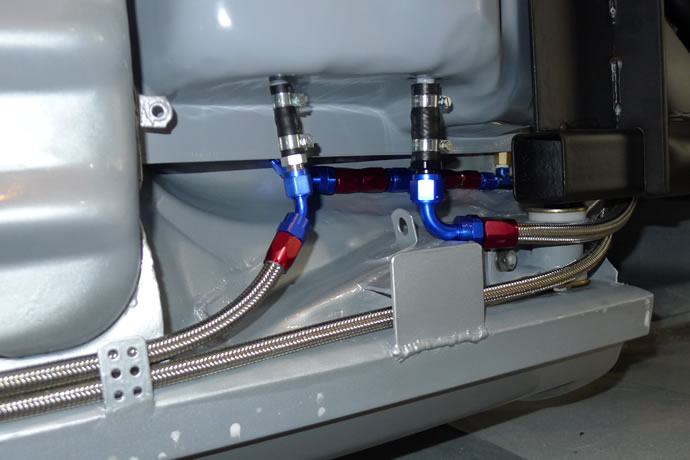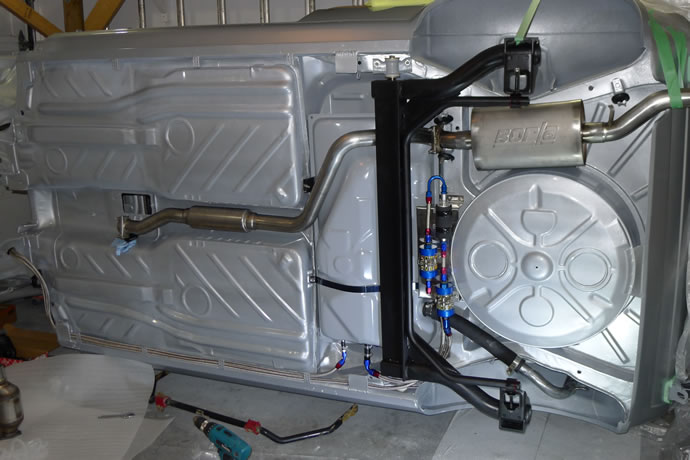 The final fuel system plumbing involved fabricating some stainless brackets to allow for clean and safe mounting of the supply and return lines - November 11, 2014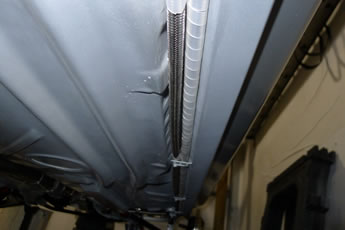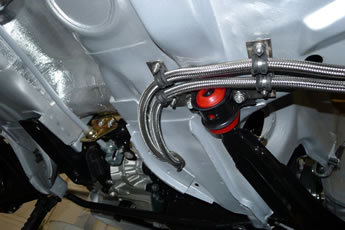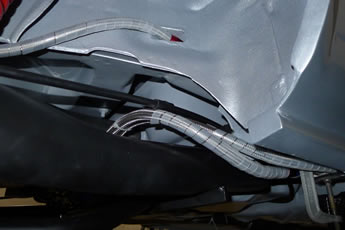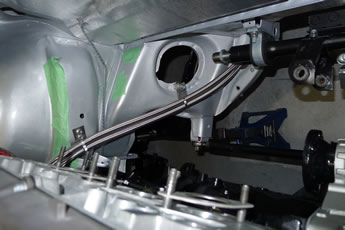 I bit the bullet and upgraded from the Holley HP EFI system to the full Holley Dominator EFI system with its endless # of inputs and outputs. In the end I needed to control more things like 2 PWM fan outputs, a PWM water pump output, and more sensor monitoring (e.g. a second water temperature sensor in the radiator allows me to monitor the difference between the rad and block temperatures and adjust pump flow rates and/or put a restrictor plate into the system to avoid 'block shock'). I am also going to use the Racepak UDX LCD console which communicates with the Holley EFI ECU via can-bus - January 18, 2015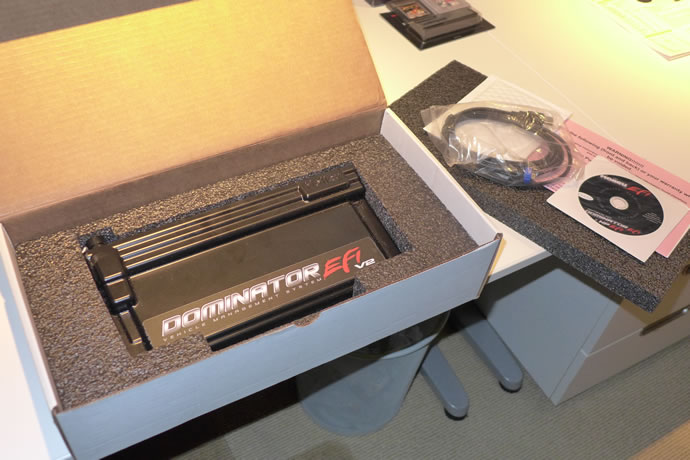 I finally sourced all of the fittings required to create a 'push' compressed air nitrous system (4500psi carbon air bottle with a 2900psi output regulator, a 3000psi solenoid, a 550-1250psi adjustable nitrous pressure switch, and the tricky NTP to BSPP adapter required to connect the air quick-disconnect fitting) - March 8, 2015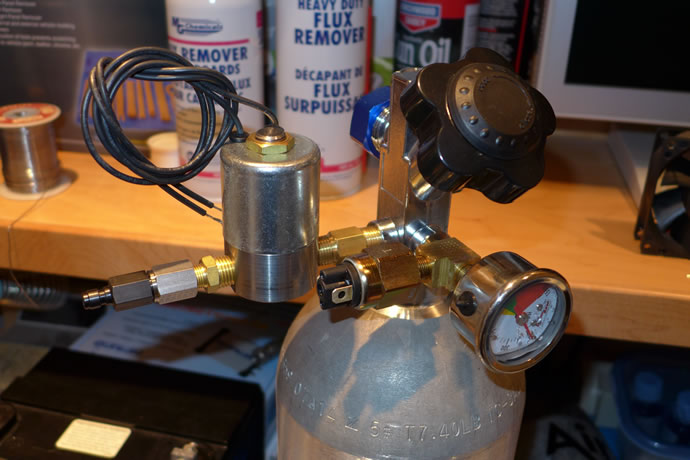 After fighting with the old heater valve cable for about 2 hours (trying to lubricate it so that it would slide smoothly and open/close the heater valve) I gave up and found a replacement Gemo p/n 161819837 on ebay that looks like it will work fine in my mk1 application. I then fitted up the remaining cables that were in perfect working condition and mounted the heater/HVAC box in the chassis with its new gaskets. I was then able to hook up and complete the coolant system lines in the engine bay and pressure test the complete system to 15psi - success! I was also able to install many of the engine sensors and started to design a mounting bracket for the Holley Dominator ECU and ignition coils that will be placed in the rain tray on the passenger side (it is all weather proof but won't really see any water where it will be placed) - April 25, 2015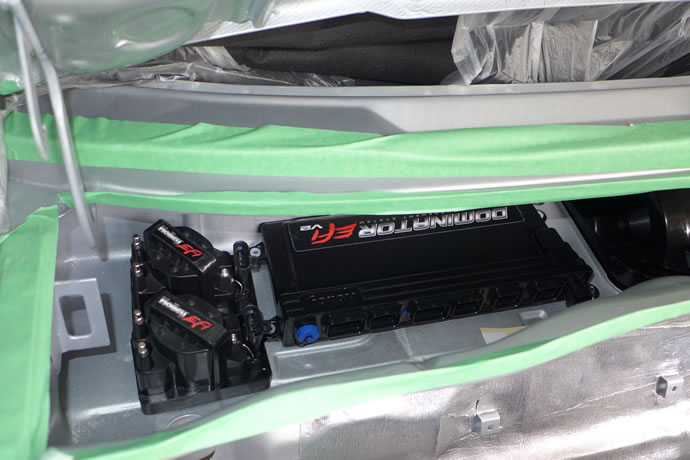 I am starting to lay out the wiring harnesses and plan my connectors (a combination of metripack and weatherpack connectors). I had to cut away all of the electrical tape on the main ECU wiring harness as Holley had placed the fuel pump & injector relay and fuse in a crappy location for my project, same with the main power fuse.
I semi-finished my ECU/ignition system mounting system/plate, ordered and wired up the custom Magnecore KV85 silicon ignition wires and fabricated a wiring loom to hold the wires to the back of the cylinder head. I am pretty happy with how they look.
I sorted out the remaining engine sensors and tested/modified them to suit my project. The cam and crank sensors have given me the most challenges. I had to basically build a custom cam sensor earlier on in the project, and for the crank sensor I adapted a late model Bosch hall effect sensor that didn't quite fit the VW ABA block so I had to grind away at it a lot and also solder up a custom connector that would not hit the block but in the end I was rewarded with a high quality digital output to the ECU. For the cam sensor I got it setup properly to trigger at 180 degrees before Cyl #1 TDC which is what the ECU wants to see. Just prior to firing up the engine for the 1st time I will test all of the ignition timing with the injector harness disconnected.
Here is a list of the main engine sensors (email me if you need the p/ns for the mating connectors):
Bosch KS-R knock sensor, p/n 0 261 231 047 (analog peizo output, ECU set to monitor at 7.2kHz)

Bosch Hall-Effect Speed Sensor HA-P, p/n 0 232 103 037 (requires 1k pullup output resistor)

BBHME2000 Hall- Effect Cam Sensor (requires 1k pullup output resistor)
- May 12, 2015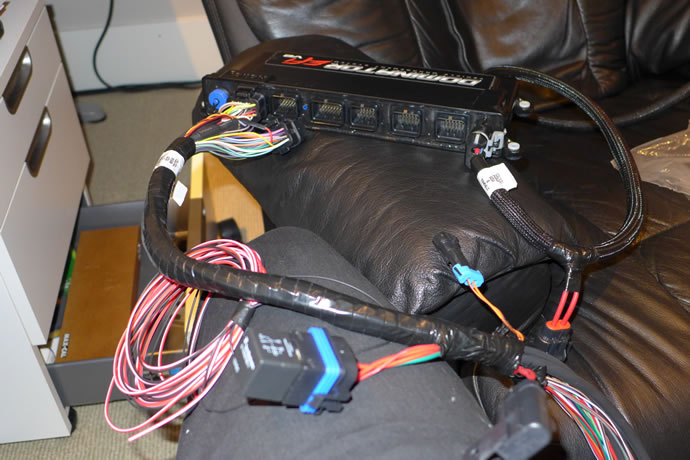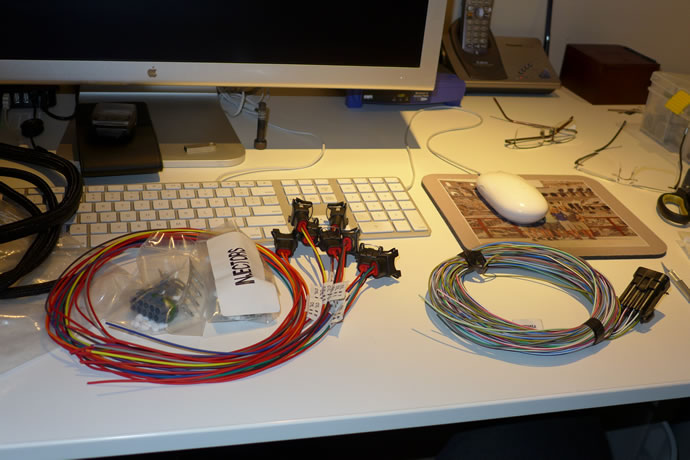 My new Magnecore ignition wire set and loom ...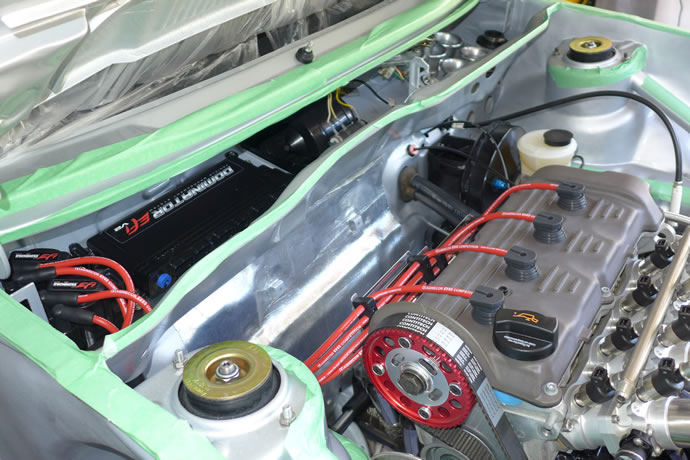 Comparing the stock ABA inductive crank position sensor IA-C (p/n 0 261 210 136) to the later hall-effect sensor I used ....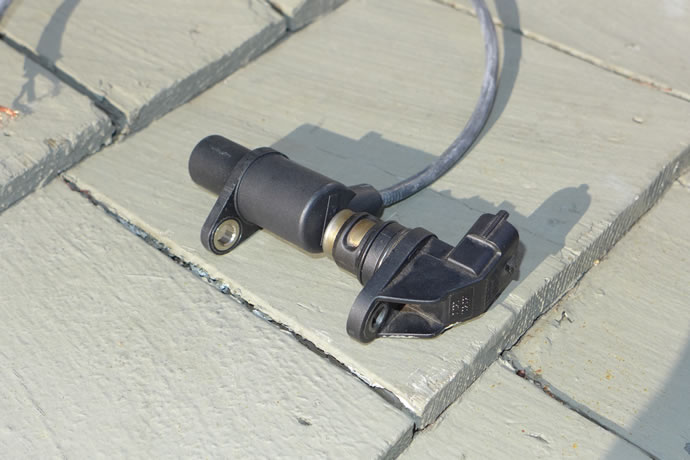 Modifying the later model hall-effect sensor ...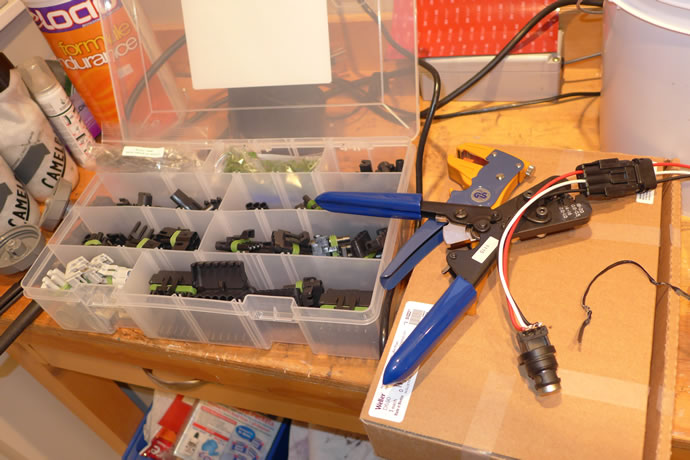 Index of Project web pages
Project Overview, Goals & Initial design specs
Project car initial condition
Chassis development
Bodywork & Paint
Suspension, Wheels, Tires & Braking System
Engine & Transmission
Electrical & Fuel System
Interior
Performance validation
VW Vortex Thread on this project
Videos
My original 1983 Rabbit GTI (owned 1983-1987)
Back to my Automotive overview and history
Forward to my 1987 Ford Mustang 5.0 LX web page