1967 Chevy Chevelle SS396 Street/Strip Car (owned 1996-2001)
Pushing the limits of what can be called 'a street car'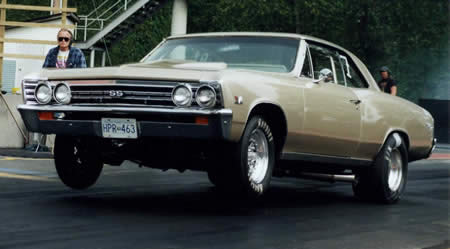 '67 Chevelle SS396 Videos
67 Chevelle SS396 Initial 502cid V8 Engine Dyno Pull - 1998:
At Ron Parr Automotive - this was the mildest street version (the 1st of 4 engines) we initially built, which was Nitrous powered up to about 900hp, and then rebuilt again and again, ultimately as a 548cid V8 with 1300hp for the 2000 racing season
67 Chevelle SS396, Initial Fabrication, Tuning, and Testing - April-June 1999:
Check out the wicked street burnouts which literally worn out a set of expensive DOT drag tires in only 20 seconds of total usage - the very first time we had driven the car. The track testing was 'on the motor' only for most of the passes - hence the slower times until the end of the day when we tried a small spray of Nitrous to dip into the 9s.
67 Chevelle SS396 Racing and Wrenching Days at the Track - 2000:
With lots of additional footage of other great 'street' cars and bikes racing as well - such as Don Murray's mean green '56 Vet that I sponsored in 2000
67 Chevelle SS396, Horsepower Heaven Footage- 1999/2000:
Competing in the Fastest Street Car competition at Mission Raceway
This is professional video footage that Larry Pfister of Horsepower Heaven took of my Chevelle at the track
This car won 'Canada's Fastest Street Legal' title in the Super Street class in 2000, with 1300hp on tap (while passing BC's tough 'Air Care' test as well).