Project "Ultimate 1983 Rabbit GTI"
Engine & Transmission ...
Index of Project web pages
Project Overview, Goals & Initial design specs
Project car initial condition
Chassis development
Engine & Transmission
Electrical & Fuel System
Bodywork & Paint
Interior
Performance validation
VW Vortex Thread on this project
Videos
My original 1983 Rabbit GTI (owned 1983-1987)
I was always interested in Callaway turbo kits for my original GTI and came close to acquiring an 84 GTI with one of these kits installed on it. But turbo kits add weight and they change the engine's free revving characteristics which were perfectly matched to the 5 speed trans. Like many other people I feel that the ultimate mk1 GTI has either heavily worked over 8V heads or carefully massaged 16V heads (keeping an eye on mid-range torque), a 2L block, and a close ratio 020 transmission. So I contacted Josh Arnold at Techtonics Tuning in Portland, Oregon, (who is actually doing the engine development work at his own business with his dad, Mark (Mark's VW Service, Amity, Oregon) and asked him if he would do the ultimate 16V buildup. He started sourcing the components and building up the motor in late November 2012 (for more info on Josh, TT, and a similar project, see this VWVortex thread).
We choose a VW/Audi ABF block (used in the mk3 VW/Audi 93-97 16V 2L cars producing 150hp) and Josh is now building a 2092cc 16V motor around a new VW OEM 95.5mm stroker forged crank, complete with custom forged rods, and 83.5mm 11.5:1cr custom pistons and a lightened/balanced intermediate shaft. The heads are high velocity/turbulence 9A 16V (used in the mk2 VWs) with +2.0/0.5mm over sized 34.0/28.5mm valves/seats, 5.5mm super small intake stems, tapered guides, etc. - with a full 'stage 3' head treatment. And the cams will be 288 degree 'sport' profiles to deliver moderate midrange torque and a targeted 240hp peak at or slightly above 8000rpm. And to top it off we will use an individual DTH (direct to head) TB intake system from AT Power, the Holly Dominator EFI system, and a dry flow nitrous system (which will be programmed to turn on at 75% of full throttle to add 30ft-lbs of mid-range torque at 3000rpm and progressively taper off to 'zero' nitrous by 6500rpm to provide an over-all win/win torque curve that matches the ABF profile cams for mid-range torque but allows for strong peak power at or above 8000rpm).
To fit in the ATPower TBs and their long curved 280mm individual intakes, I am designing a custom radiator that tucks in behind the grill. German Transaxle of America has built and delivered to Techtonics an 020 AGB 2Y (mk3) close ratio transmission (same exact 3.45/2.12/1.44/1.12/0.91 1st thru 5th gearing as the original 020 2H trans but with a 3.67 final drive ratio rather than the earlier 3.94 ratio) with a Quaife differential and many other performance goodies. It will be shifted via a Techtonics shift kit. HD rubber engine/trans mounts have been selected to provide a performance oriented mounting system without undue harshness or vibration. A Sachs 210mm clutch with lightened flywheel will be used. The car will cruize at 70mph at 3465rpm and will be at 151mph at the expected 7500rpm power peak of the engine.
High quality race prepped 100mm OEM CV joints and axles have been chosen as well.
Initial Engine Assembly photos - taken at Mark's VW Service and Techtonics Tuning - Feb 15, 2013
Josh Arnold - engine builder extraordinaire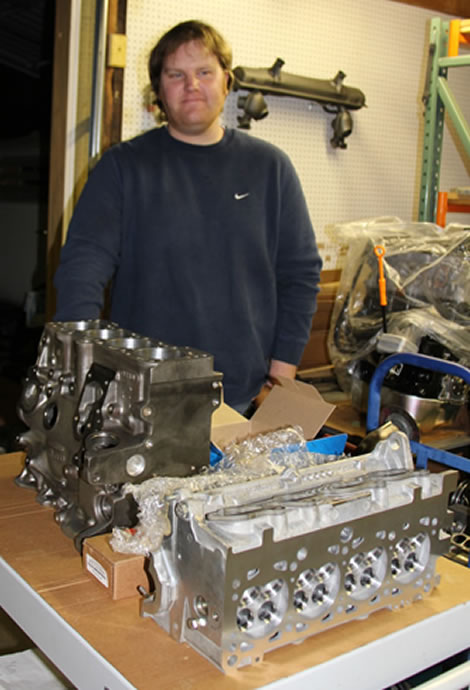 The VW (mk3) ABF block, (mk2) 9A cylinder head and 83.5mm forged piston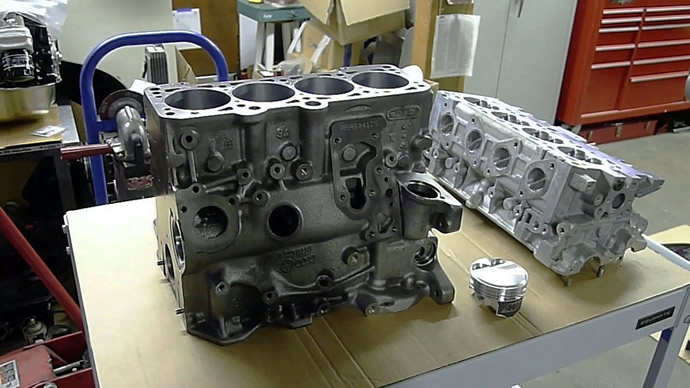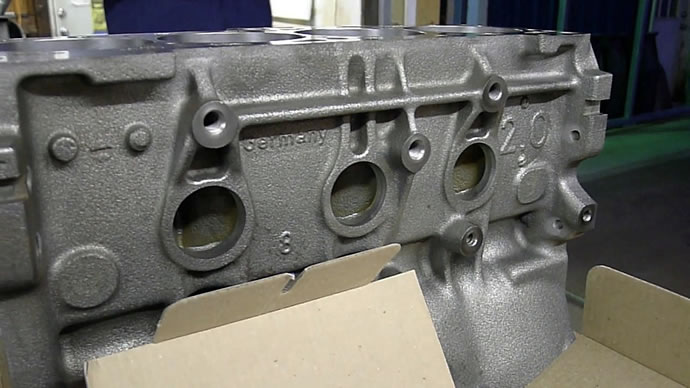 95.5mm stroker VW forged crank and rods prior to lightening and finishing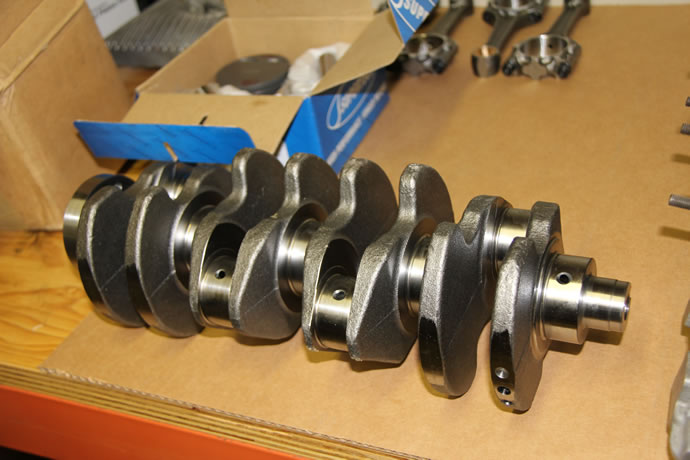 11.5:1cr forged 12% silicon (low expansion) forged piston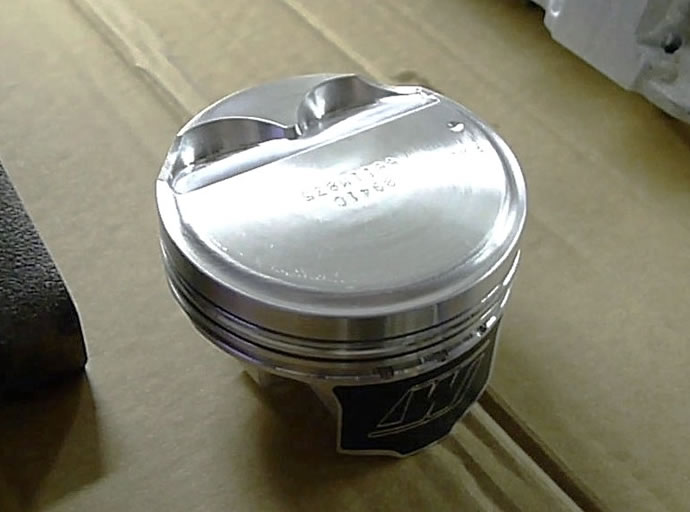 VW 9A 16V cylinder head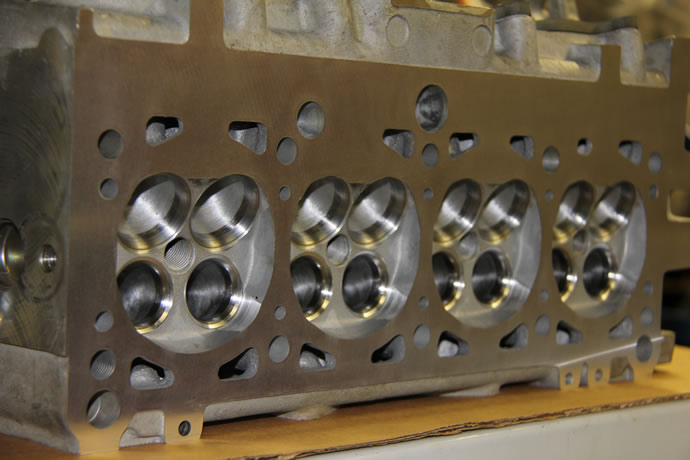 Combustion chambers with 34.0/28.5mm oversized valve seats, prior to blending, valve unshrouding and bore matching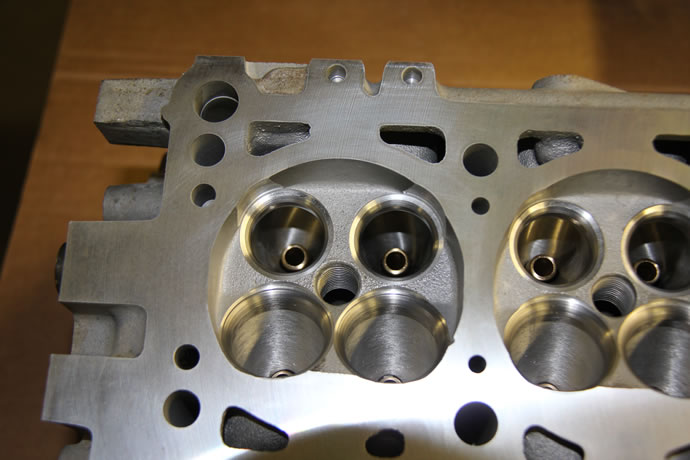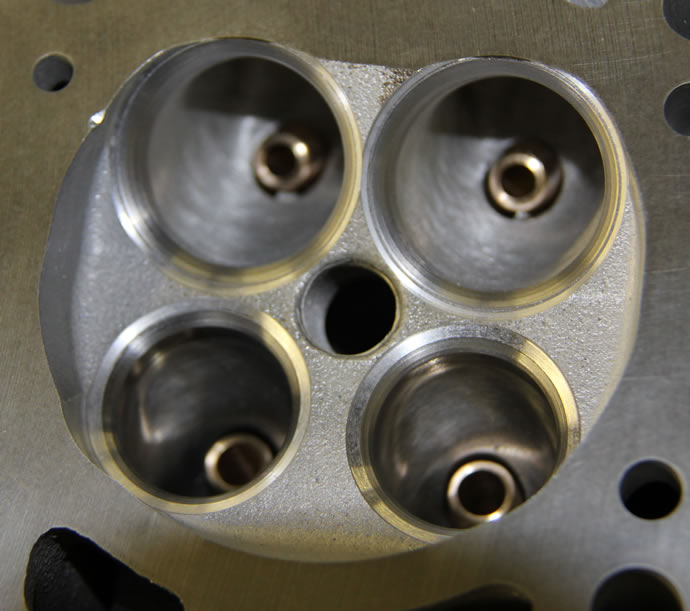 Intake ports (left unpolished to foster mild turbulance)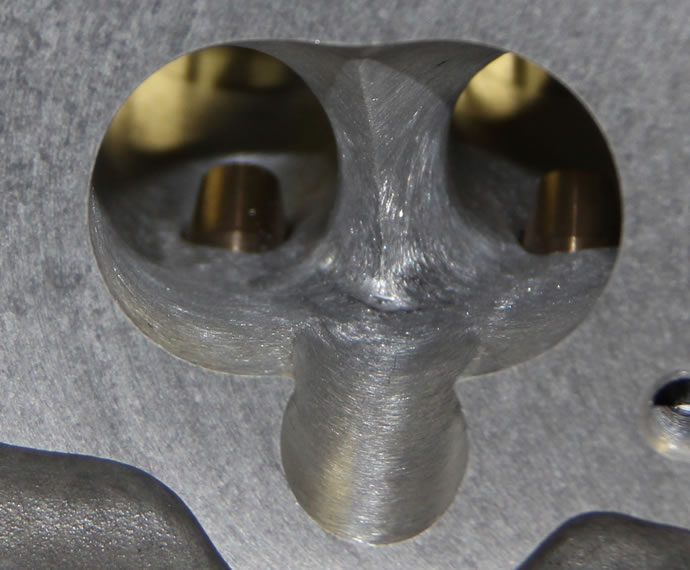 Tapered 5.5mm intake valve guides and blended 34.0mm (+2mm) valve seats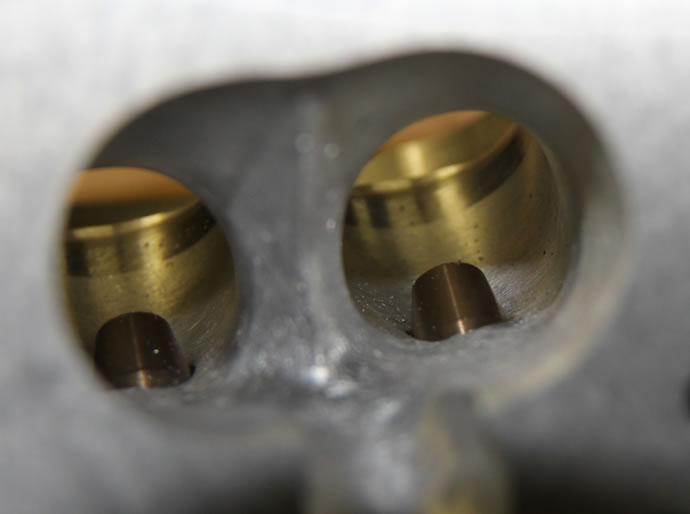 Polished exhaust ports, tapered exhaust valve guides, 28.5mm (+0.5mm) valve seats, port matched to 1.75" primary exhaust header tubes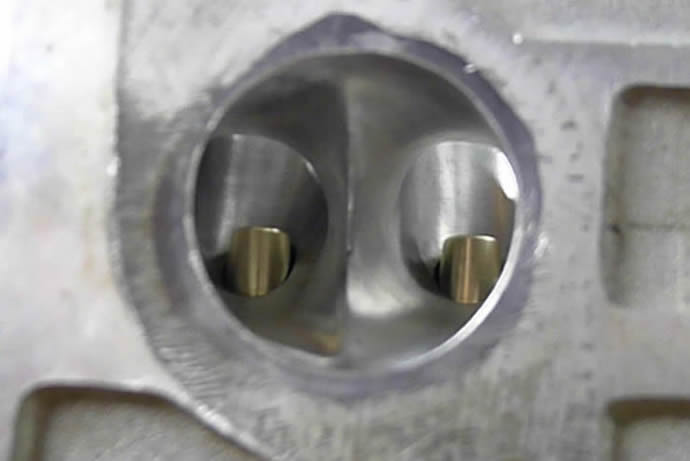 Comparison of 5.5mm stem x 34.0mm diameter intake valve with stock 7.0mm stem x 32.0mm diameter intake valve and retainers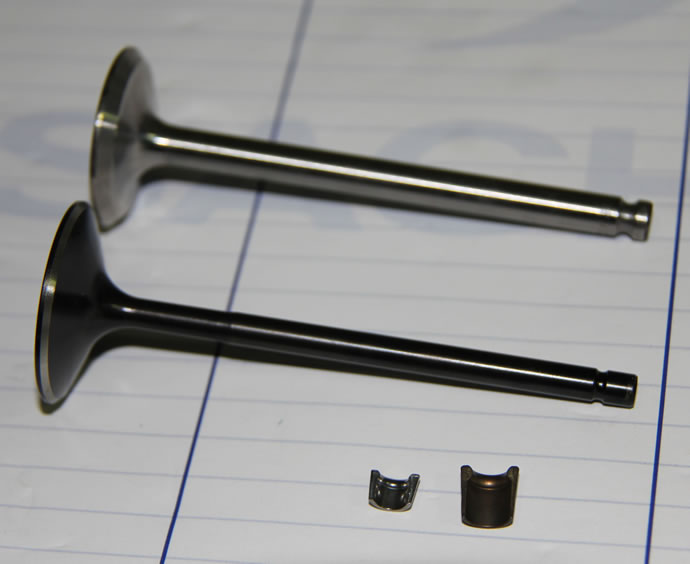 Comparison of 28.5mm diameter light weight/undercut exhaust valve with stock 28.0mm diameter exhaust valve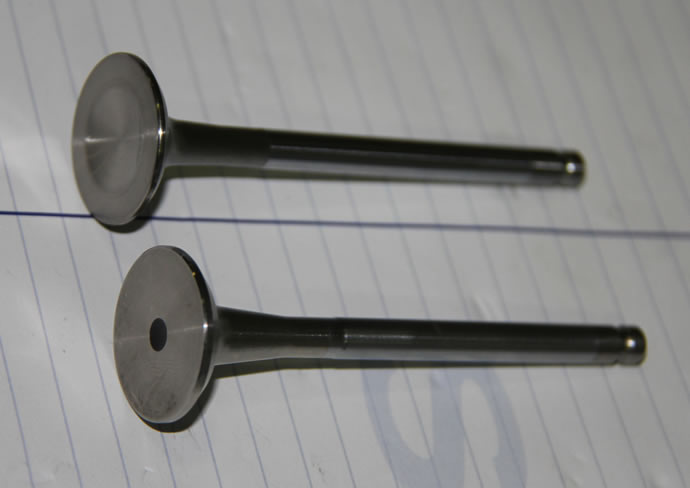 Techtonics HD valve train components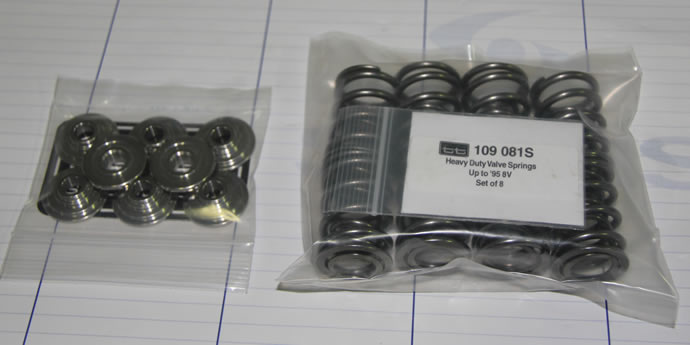 Techtonics factory/warehouse tour ...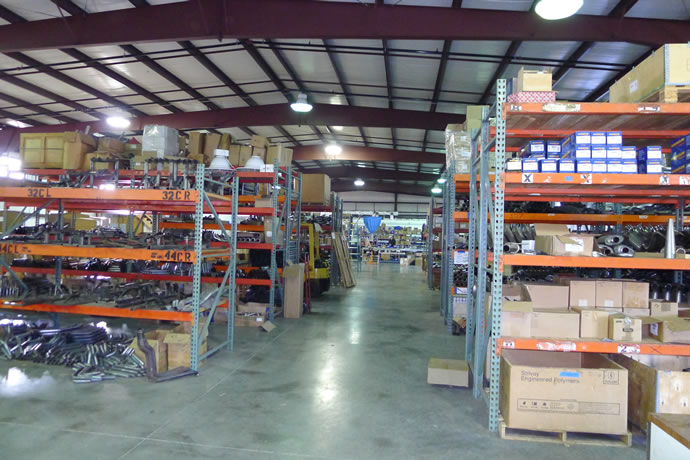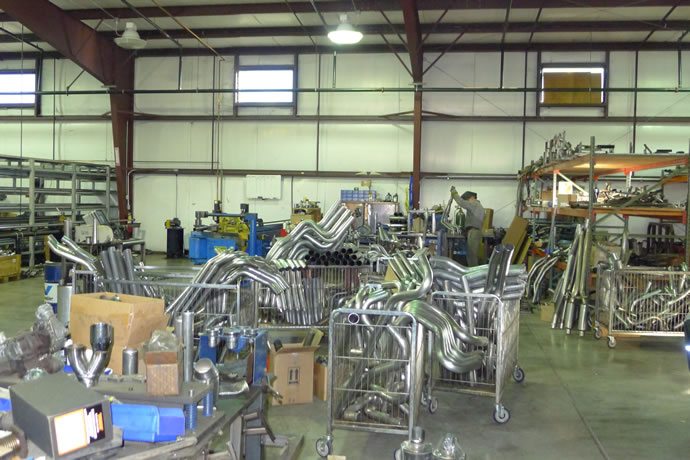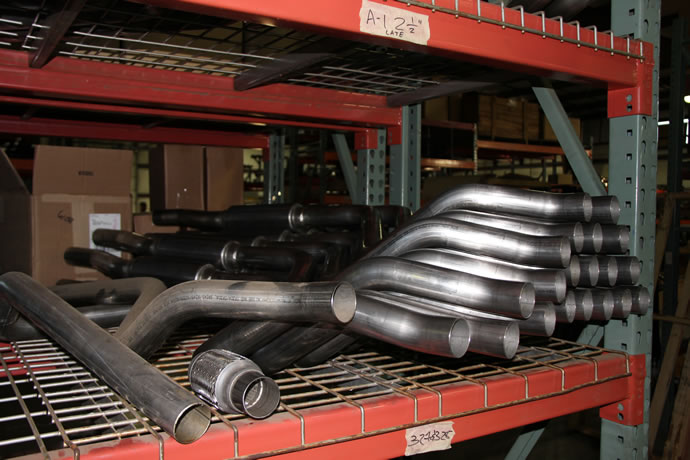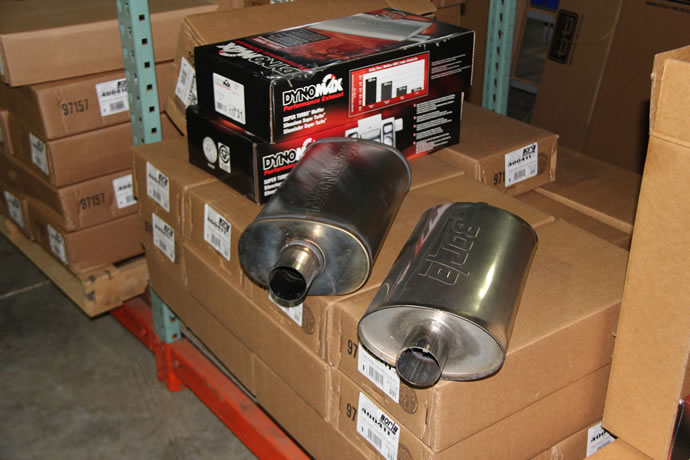 The AT Power Individual Throttle Body intake system for the 2092cc stroker VW 16V ABF/9A motor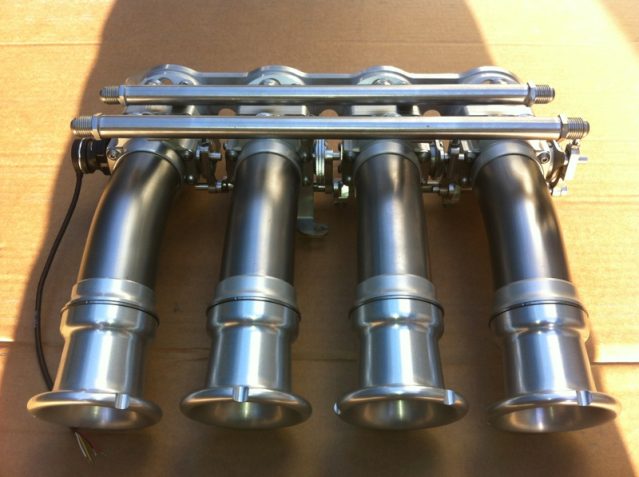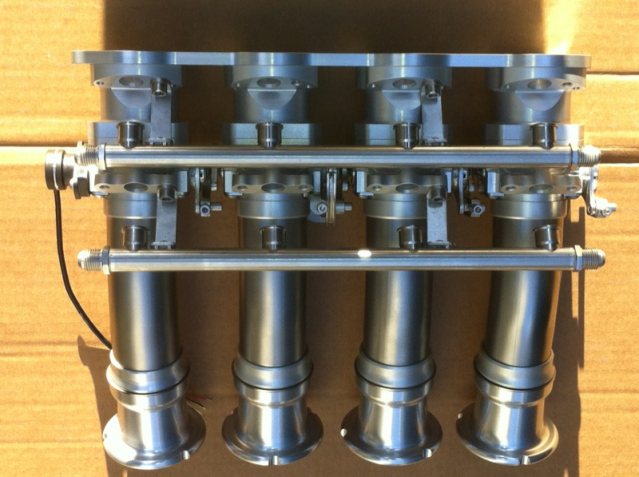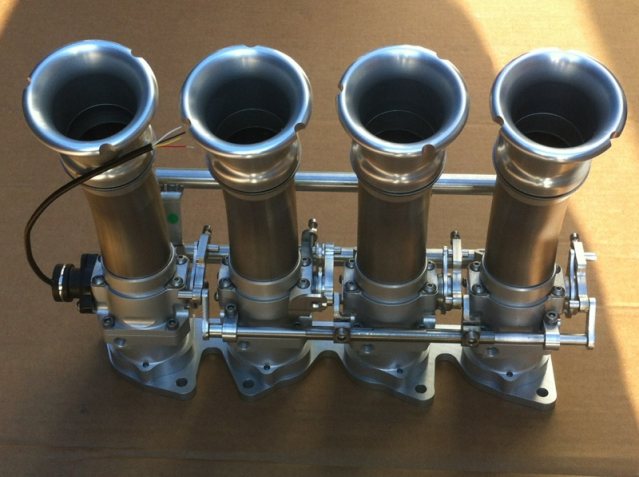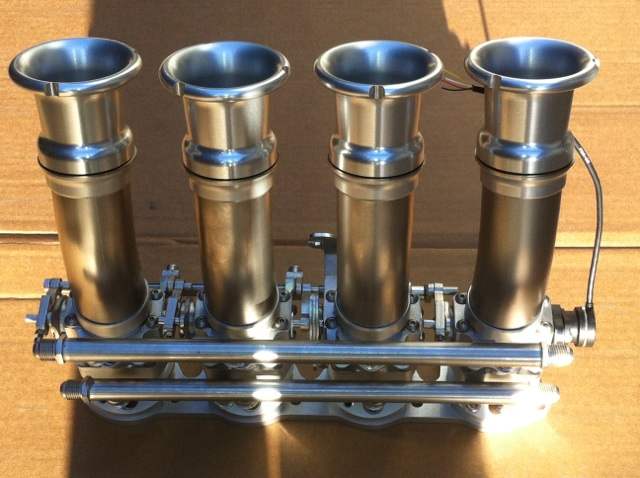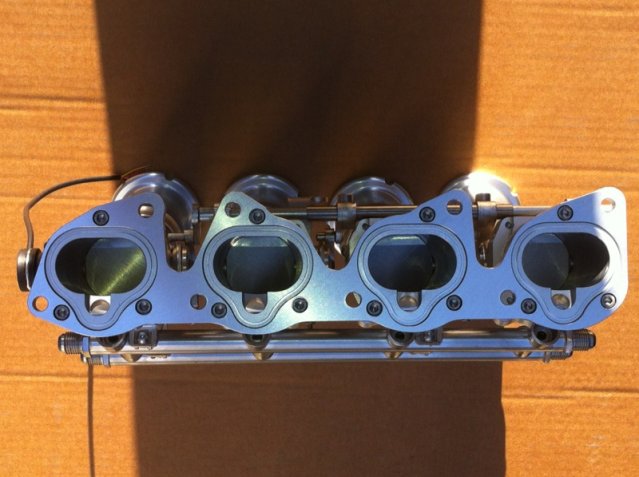 Quaife transmission differential ...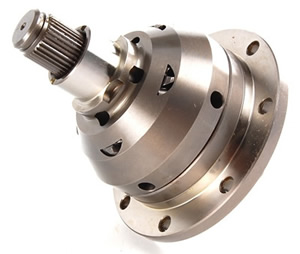 There is an excellent VW transmission specifications reference site at http://www.rabbitgtipage.com/transmission.html
*** under development ***
Index of Project web pages
Project Overview, Goals & Initial design specs
Project car initial condition
Chassis development
Engine & Transmission
Electrical & Fuel System
Bodywork & Paint
Interior
Performance validation
VW Vortex Thread on this project
Videos
My original 1983 Rabbit GTI (owned 1983-1987)
Back to my Automotive overview and history
Forward to my 1987 Ford Mustang 5.0 LX web page