Project "Ultimate 1983 Rabbit GTI"
Interior ...
Index of Project web pages
Project Overview, Goals & Initial design specs
Project car initial condition
Chassis development
Bodywork & Paint
Suspension, Wheels, Tires & Braking System
Engine & Transmission
Electrical & Fuel System
Interior
Performance validation
VW Vortex Thread on this project
Videos
My original 1983 Rabbit GTI (owned 1983-1987)
While the original GTI midnight blue seat fabric was in generally good shape, I took the approach of getting SMS Fabrics to custom make all new OEM spec GTI seat fabric material and I am getting the seats, front and rear, completely re-built with new bushings, foam and fabric. I will also install deluxe new OEM looking carpet and headliner. The dash looks pretty good but I will take care to make sure every inch of the interior looks stock and mint. That said, there will be some minor trick additions: a hidden (in the 1 DIN stereo location) Clarion VZ401 flip out 7" LCD monitor audio control unit and a killer audio system using Boston Acoustics speakers, hidden in the stock speaker locations, with the addition of larger drivers under the dash and in the trunk area. Gotta have state-of-the-art sound and Bluetooth smarkphone calls and wireless audio streaming capabilities ...
SMS supplied original OEM VW Rabbit GTI Midnight Blue fabric (so much nicer than the old faded/worn material - it turns out I got the last of it. Oh my!) ...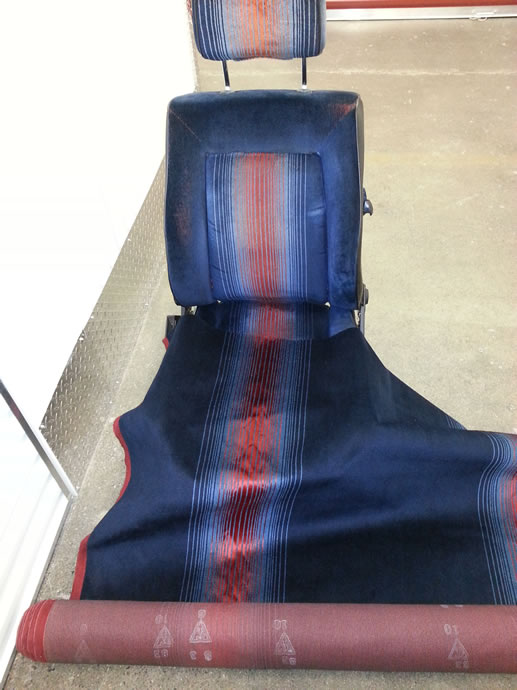 Clarion VZ401 Audio Head Unit, Boston Acoustics S35, S75 Speakers mounted in stock locations, 6x9" speakers hidden under dash and in the rear, and a 10" sub-woofer hidden in spare tire well with amplifiers (I will keep the LCD hidden unless I need to program it) ...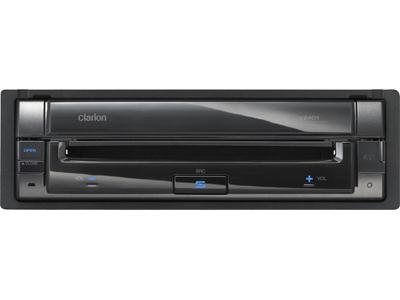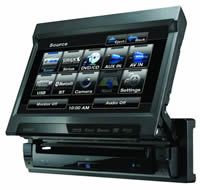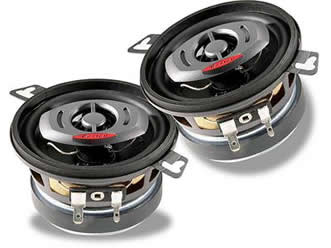 I have been working on the rear suspension system over the past week at the same time that I have been working on the seat frames and replacement foam. I have a great seat guy that has already cut all of the midnight blue fabric and sewn in the 1/4" foam on the backs of each of the 'panels' while I have been welding up the seat frames where they are weak and tend to flex and crack around the tops of the front seat frames. I also custom cut some extra firm foam for the seat bottoms - a tough, delicate process when shaping the side bolsters. I will finish painting the seat frames when my black SPI epoxy arrives and then my seat guy will finish them off. BTW, I was able to purchase new plastic replacement parts from VW Air Heads and will color match them soon. - April 14, 2014
Starting the dying process ...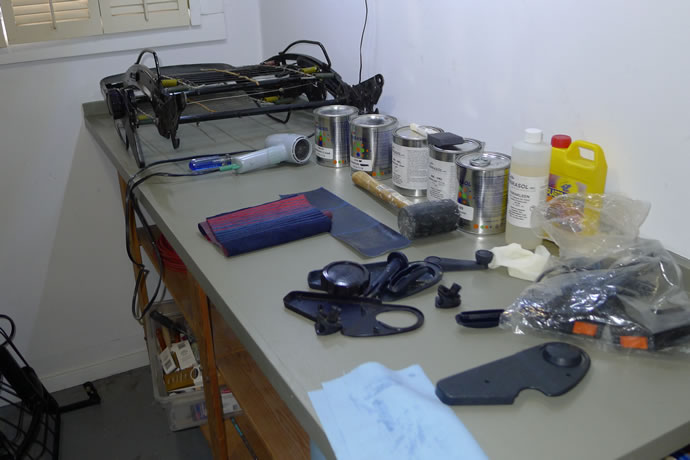 Starting the foam cutting process ...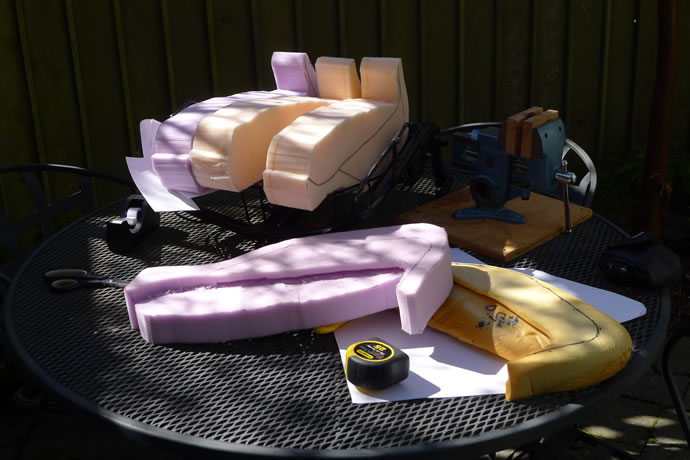 Welding up the tops of the seats ...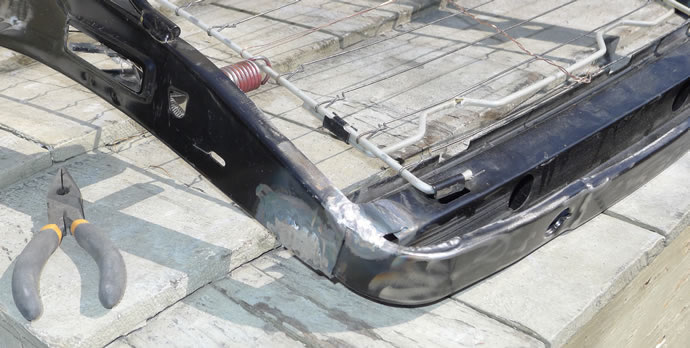 The rear seats are now complete and the fronts are 80% done - July 20, 2014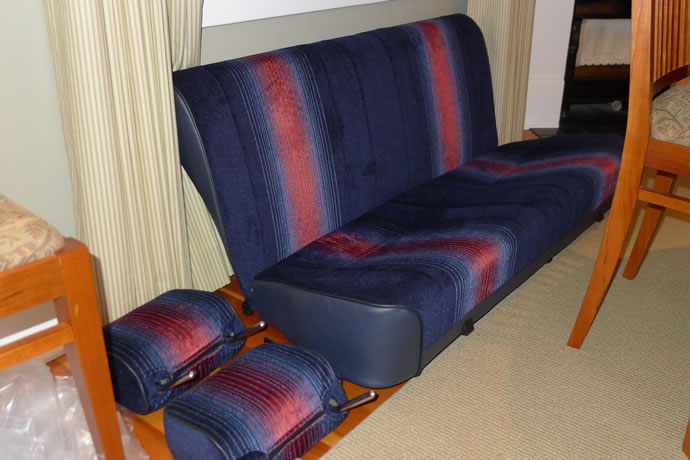 The front seats are also now complete - August 5, 2014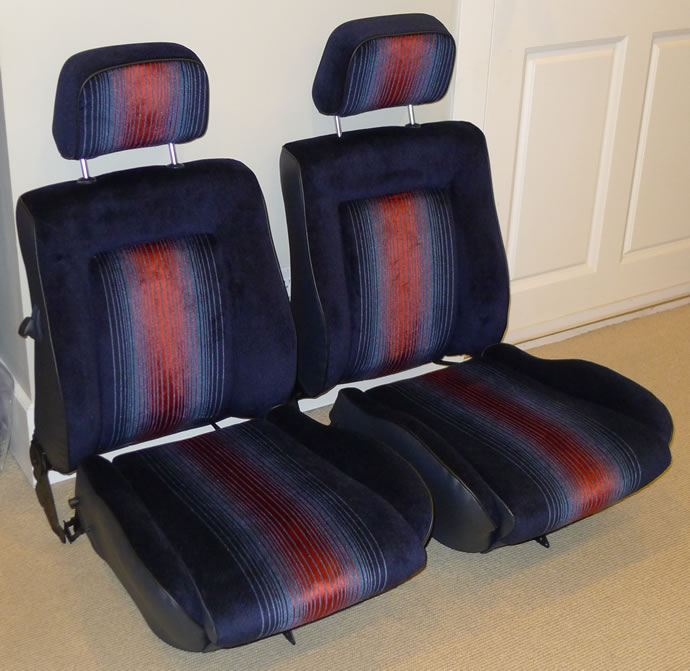 I got the steering wheel back from Custom Craft today: they re-wrapped the wheel with 1mm of foam and then soft leather. I am very pleased with the end result: a very nice feel to it, not too soft, not too firm, just the right diameter, with the stitching where my fingers want to engage it. I will treat the leather to match the soft gloss of the vinyl center section - October 8, 2014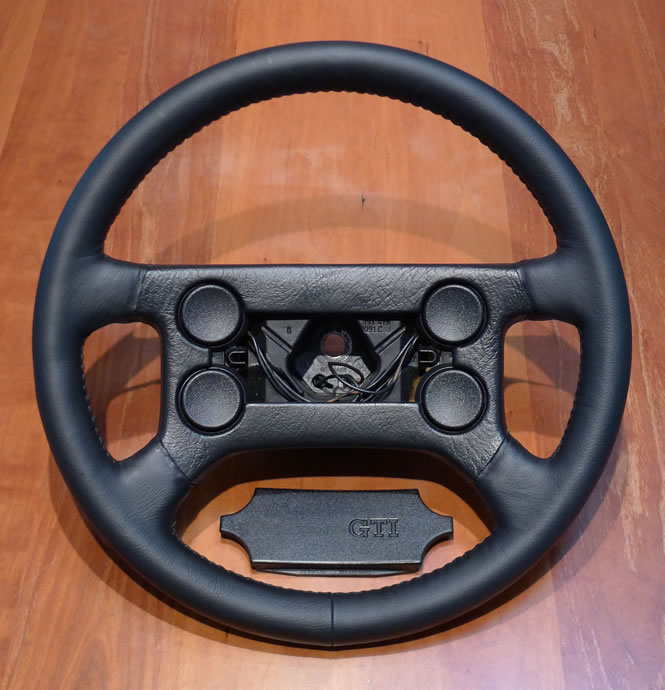 While I patiently wait for the new custom radiator and intake runner collars I have started to rebuild the heater box with a new heater core, blower, foam pads and seals - again, I must wait for the parts to arrive before being able to re-assemble it so I am going to have to find other things to do for the next week - January 8, 2015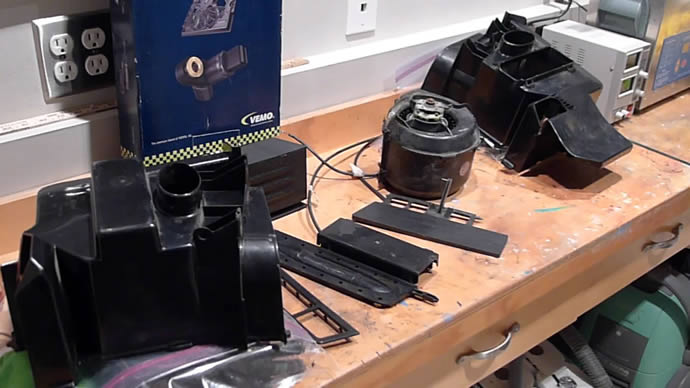 I wire brushed, acid etched and plated the metal h/w for the heater/blower box, and dove into the door assembly/finishing tasks, starting with the reconditioning of the window channel guides which were rotted out on the bottoms and required TIG braising in new metal, filling, sanding and painting, and also got the design for the 2 way component speaker system that will be installed in the doors sorted out (a high end Hertz HSK 165 system with a 6.5" woofer and 1" tweeter - I will also use hertz coax speakers in the stock front/rear locations, plus a Hertz Sub box in the rear that I can remove along with the sub amp when I want less weight for racing, etc). I also got the metal side plates for the front spoiler stripped, acid etched and primed, plus got the mirror bases acid etched and the whole assemblies partially cleaned up prior to painting - January 12, 2015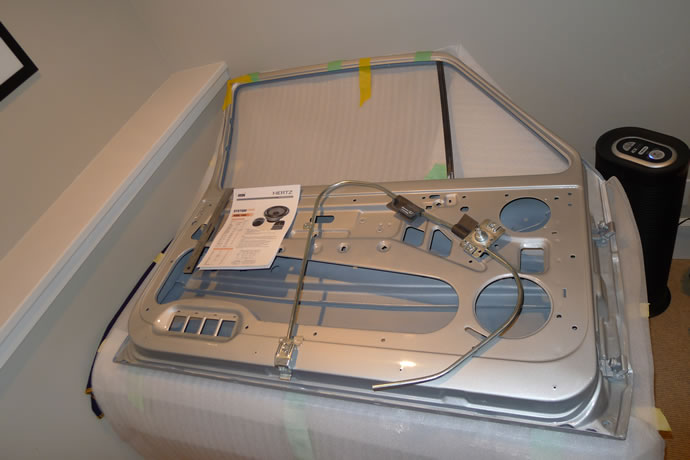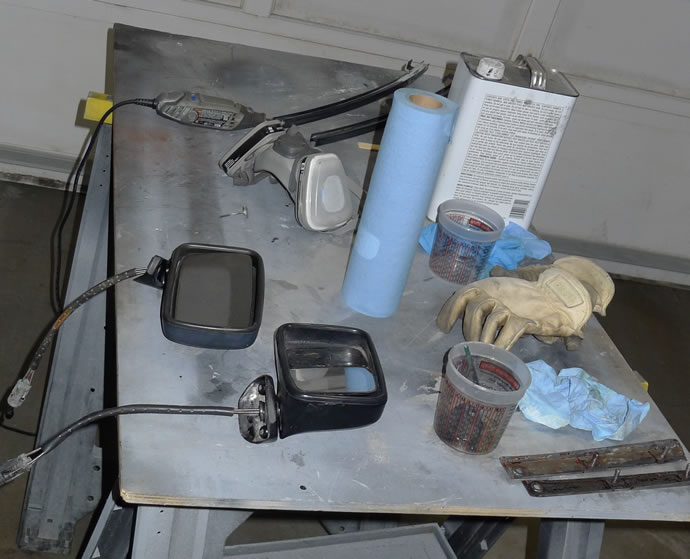 I got the prep and painting of the front window channels, front spoiler side plates, and mirrors completed this weekend. It all turned out very well but I think I will wet sand and polish the black epoxy paint parts as those parts ended up being a bit too shiny for me - I want a semi-gloss look and when you wet sand and polish black epoxy it comes out pretty much exactly semi-gloss (soft gloss) - January 18, 2015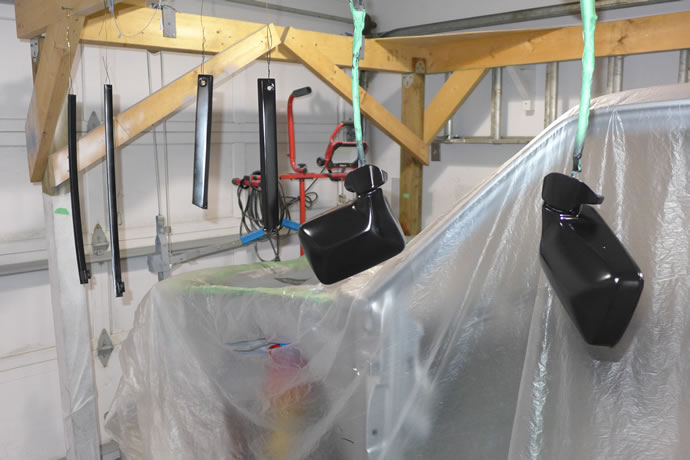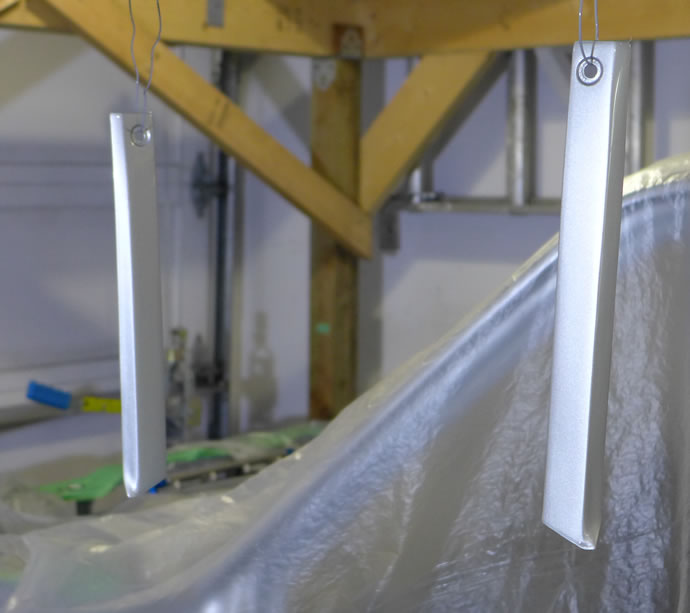 After zinc plating the h/w and cleaning out the heater box, I reassembled the unit with a new heater core, new fan/motor, and new gaskets/seals and tested it out. I also finished drilling the intake air box backing plate for the purge solenoid and mounting h/w, wet sanded all of the aluminum parts up to 2000 grit to prep for anodizing. Best news yet is that my custom radiator shipped out to me Fedex on Friday so I should have it Wed latest and can then complete the cooling system and intake system which are all interrelated. I also received the replacement -20AN fittings from Davis Craig by overnight Fedex (they paid the shipping - 2 thumbs up!) from Australia, no less - February 8, 2015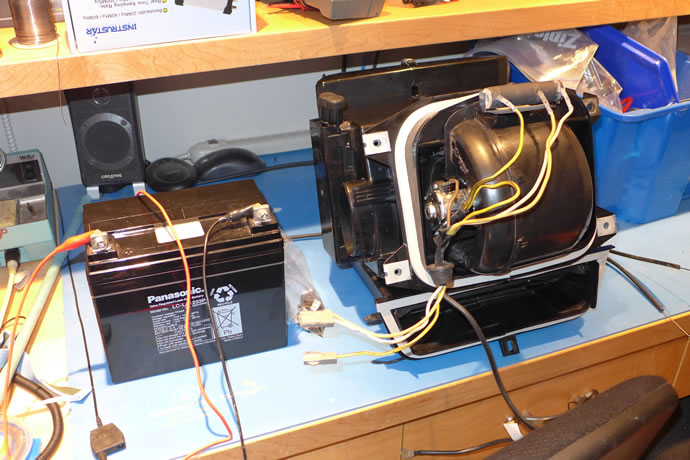 I brought back my new Lexan Margard windows from the UK last week. AWC Motorsports Plastics in Bristol made them and they are perfect with nicely beveled edges (unlike the rough cut Lexan windows that LWS Design in the UK made for me in 2013 - that were made from the wrong material and for a mk2) - March 8, 2015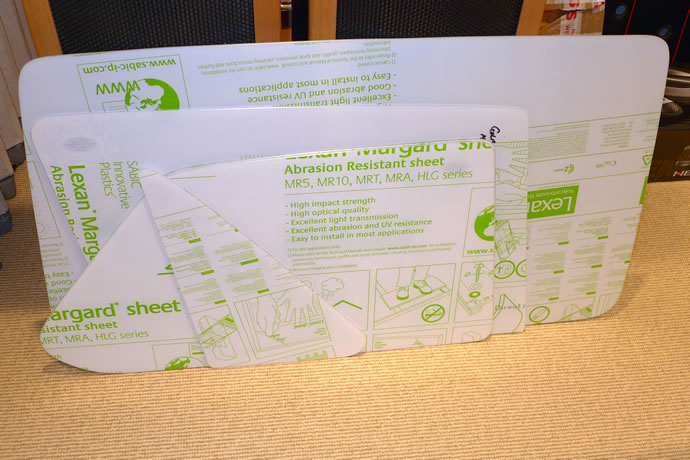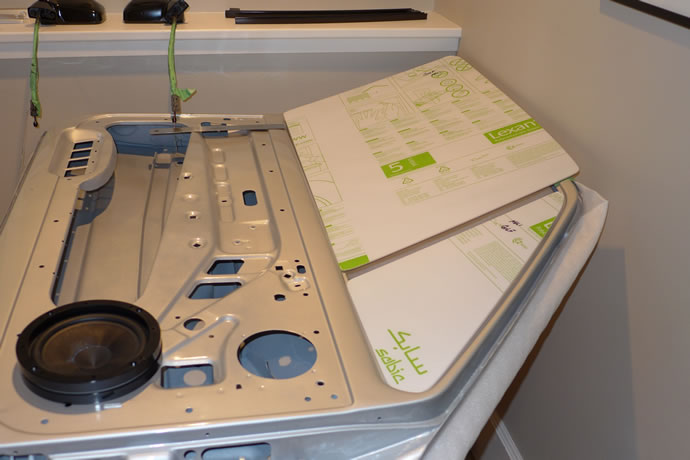 I got the plastic nitrous injector lines cut, heated/shaped and installed, plus a number of other intake system plumbing jobs like finishing the assembly of the -4AN hose ends for the vacuum lines, plus sorted out a new approach to my oil-to-coolant intercooler mounting which was to machine a block of aluminum to allow the lower oil fitting to stick out sideways rather than straight down (designed but not yet machined), and the big job for the week was the installation of the GTMAT 110 sound damping material on the interior of the chassis (to reduce panel vibration from the engine and exhaust areas) - April 12, 2015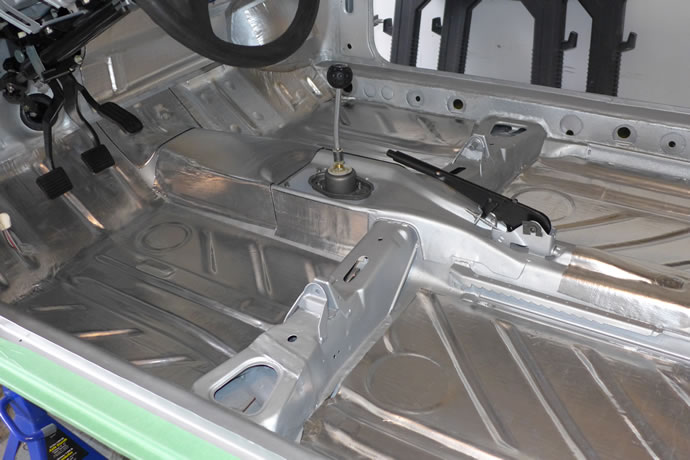 After fighting with the old heater valve cable for about 2 hours (trying to lubricate it so that it would slide smoothly and open/close the heater valve) I gave up and found a replacement Gemo p/n 161819837 on ebay that looks like it will work fine in my mk1 application. I then fitted up the remaining cables that were in perfect working condition and mounted the heater/HVAC box in the chassis with its new gaskets. I was then able to hook up and complete the coolant system lines in the engine bay and pressure test the complete system to 15psi - success! I was also able to install many of the engine sensors and started to design a mounting bracket for the Holley Dominator ECU and ignition coils that will be placed in the rain tray on the passenger side (it is all weather proof but won't really see any water where it will be placed) - April 25, 2015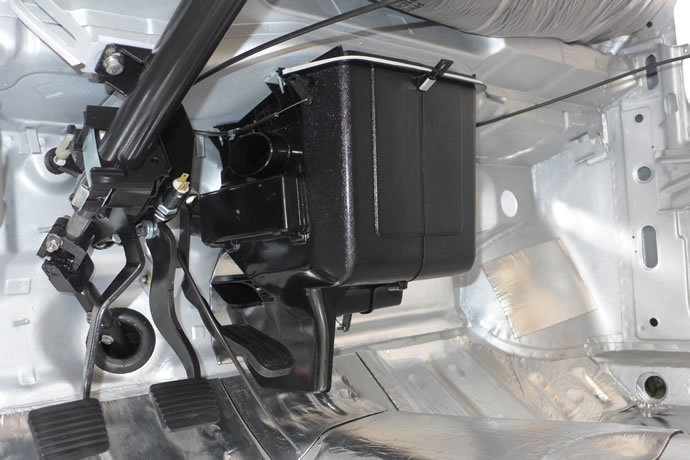 What a heart breaker: After searching endlessly on the internet I finally located NOS VW front windshield glass at VW Parts Place Inc in Michigan ('genuine VW glass' is what they list on their web site) but they would not ship it to me on the west coast - in store pickup only. So I ended up paying them $400 in shipping to get it loaded onto a pallet in a huge box and trucked it out. Buggers! It is Chinese glass and it has a non-stock tint bar across the top which would definitely identify my GTI as a non-stock car (besides the fact that I would hate staring out the window at that tint stripe all day). When I called them they said 'What is the problem? The glass will work fine'. They are a small business and I was the one who pushed them to hard to ship it to me so I will take responsibility for this mistake. So I have now taken the additional step of ordering 3/16" Lexan Margard and will cut it to the same shape and will tint it like all of the other Lexan Margard windows with the super trick 3M CR90 Crystalline film which will give the windows a very OEM look. Who knows if the Margard will stand up to wipers on the surface - I'll have to be very careful not to drive the car in bad weather. I'll keep the chinese glass just in case - May 12, 2015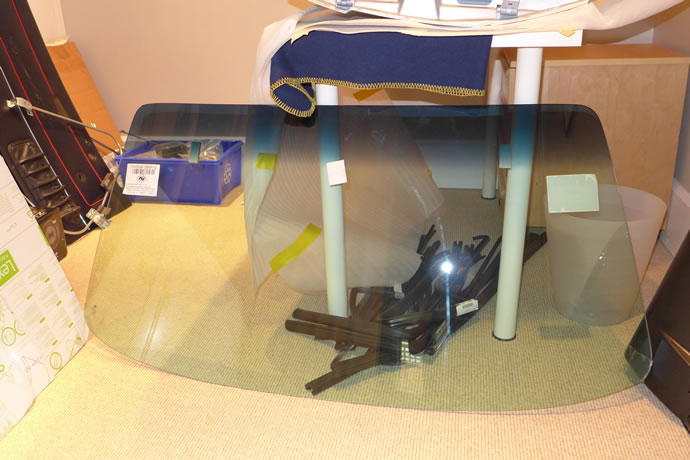 Index of Project web pages
Project Overview, Goals & Initial design specs
Project car initial condition
Chassis development
Bodywork & Paint
Suspension, Wheels, Tires & Braking System
Engine & Transmission
Electrical & Fuel System
Interior
Performance validation
VW Vortex Thread on this project
Videos
My original 1983 Rabbit GTI (owned 1983-1987)
Back to my Automotive overview and history
Forward to my 1987 Ford Mustang 5.0 LX web page